Hands-on Science Boot Camp Tour Wraps Up in Houston
Houston teachers and science trainers came out in force as we wrapped up our 2008 Hands-on Science Boot Camp tour. It's not the first time that weather preempted a teacher training, but the severity of hurricane Ike impressed upon us the impact this storm had on the Houston area. It was amazing to see how quickly the businesses and people of Houston rebounded. Just two months earlier, the Sheraton North Houston had a foot of water running through the front lobby and today you'd never know that anything happened. Workshop participants arrived early and were ready to roll up their sleeves and do some science. The audience consisted of primarily K-5 teachers, but we also had a strong showing of early childhood professionals, some middle school teachers and a handful of informal science educators (presenters at museums and science outreach professionals). When asked what brought them to the workshop, many participants told us that they were looking for ways to spice-up their curriculum with more hands-on activities. Getting the students engaged in their own learning was at the top of the list for almost everyone.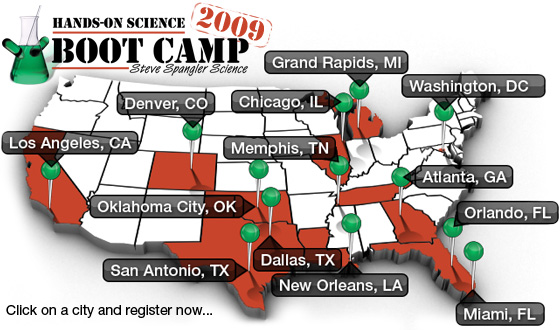 Instead of filling out workshop evaluations at the end of the day (I refer to these as "smile sheets"), I asked the participants to hold off until they got a chance to actually try out some of the ideas, to show their students a few of the activities and to put some of the teaching strategies into practice before they shared their comments. I asked the workshop participants to share some of their experiences and suggestions as a comment to this blog post. Please give them a few days to post comment about what happened when they took these ideas back to their students.
The dates and locations for the 2009 Hands-on Science Boot Camp Tour are finalized and registration is open.
https://www.stevespanglerscience.com/wp-content/uploads/2017/07/steve-spangler-science-logo-435.png
0
0
stevespanglerscience
https://www.stevespanglerscience.com/wp-content/uploads/2017/07/steve-spangler-science-logo-435.png
stevespanglerscience
2008-12-05 10:37:21
2008-12-05 10:37:21
Hands-on Science Boot Camp Tour Wraps Up in Houston