Hall of Fame Speaker
Emmy Award-Winning TV Host
Engaging Keynote Speaker
Business Leader
Science Communicator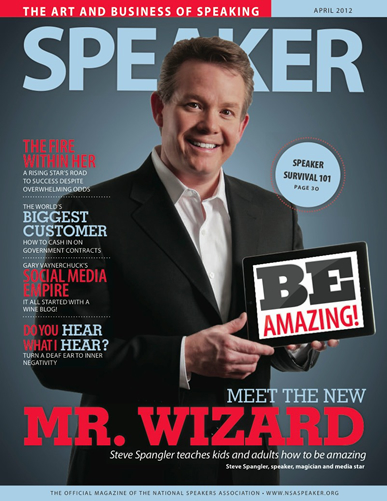 Not Your Ordinary Science Guy
Inspiring the Next Generation of Scientists
Steve Spangler is well-known for his work as a funny and engaging science guy on stage, television and as a YouTube celebrity. He's a leading science engagement influencer for top brands and organizations who want have impact and influence in today's market place. Spangler is an authority on STEM education with more than 2,000 television appearances to his credit. He's a regular guest on the Ellen Show and now Steve has his own television series called DIY Sci airing on FOX affiliates nationwide. Steve Spangler is a best-selling author, an Emmy award-winning television personality and a Hall of Fame Professional Speaker who shares his expertise in turning engagement opportunities into unforgettable customer experiences in business and education. That's why event planners around the globe share Steve Spangler with their most important audiences.
Why does Steve Spangler do all of this? His passion is to find the most creative ways to make learning fun. His methods might be unconventional, but the goal is to turn ordinary life lessons into unforgettable learning experiences.
Science Communicator…
Steve Spangler, CSP, CPAE
Did You Know…
Steve is currently the host of the nationally syndicated series DIY Sci on FOX (2 Emmy nominated in 2016)  xplorationstation.com
YouTube funded 60 episodes of The Spangler Effect as part of their original content series TheSpanglerEffect.com
SICK Science on YouTube just passed the milestone of 180 million views. SickScience.com
YouTube awarded Spangler "Silver Play" distinction for surpassing 100K subscribers for each of his YouTube channels – SICK Science, The Spangler Effect and Spangler Science TV. Watch on YouTube
Parents everywhere blame Steve for the Diet Coke stains on their kitchen ceilings. Watch on YouTube
Steve was inducted into the Speaker Hall of Fame in 2010. SteveSpangler.com
Spangler holds a Guinness World Record for the Largest Physics Lesson. SteveSpangler.com
Steve received an Emmy for his work as host of News of Kids on NBC in 1997. SteveSpangler.com
Steve is the creator of over 140 science toys and educational kits. SteveSpanglerScience.com
Steve is the Chief Toy Designer for Be Amazing Toys. BeAmazingToys.com
Steve received a second Emmy in 2010 for his Science Day television special. SteveSpangler.com
SONIC asked Steve to create the cool toy surprises in their kids' meals. SteveSpangler.com
Steve has over 1,300 TV appearances under his belt since 1991. 9News.com
Steve started on the Ellen DeGeneres Show in 2007 and has made 19 appearances to date. SteveSpanglerScience.com
Hall of Fame speaker Steve Spangler not only creates unforgettable experiences for audiences, but he reveals the secrets to creating unforgettable experiences for employees and customers.
Steve's entertaining speaking style is truly the opposite of five points and a poem! The content is strong and the audience-focused interaction is hands-on, engaging and extremely fun.
Whether you're inspiring your leaders, motivating employees or sparking creativity, Steve believes the name of the game is engagement… and it's the skill that sets him apart from everyone else!
In July 2010, members of the National Speakers Association (NSA) inducted Steve into the prestigious Speaker Hall of Fame. He is among an elite group of only 201 professional speakers in the world to receive this honor.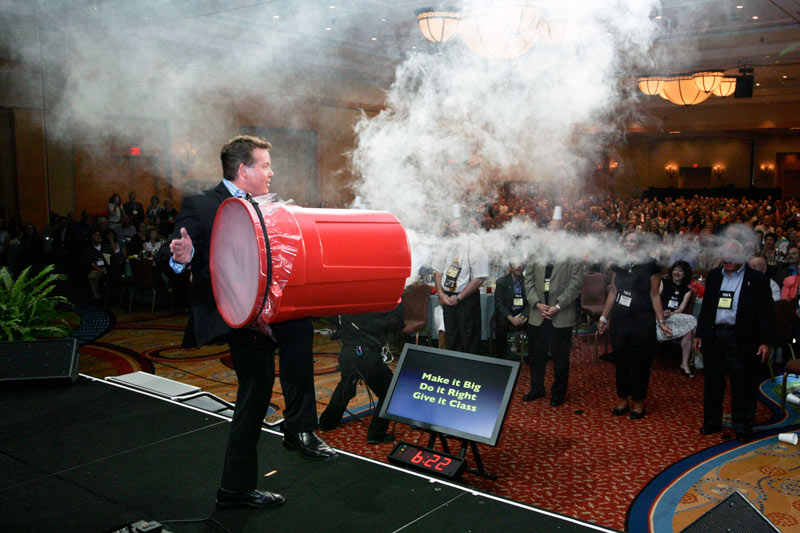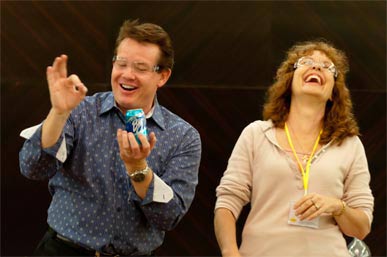 Interactive Teacher Trainer
On the education side, Steve Spangler started his career as a science teacher in the Cherry Creek School District in Colorado. Today, he travels extensively, training teachers in ways to make learning more engaging and fun. His hands-on science "boot camps" and summer institutes for teachers inspire and teach teachers how to prepare a new generation for an ever-changing work force.
As an entertaining speaker, Steve presents regularly to educators and administrators at regional and national association meetings who want to learn how to integrate more science with their curriculum and use Steve's techniques for turning ordinary moments into unforgettable learning experiences. Teachers can attend one of Steve Spangler's live events on his Hands-on Science Boot Camp tour or experience his special three-day event in Denver called Science in the Rockies.
Over the past 20 years, Steve Spangler has made more than 1,800 television appearances as an authority on hands-on science and inquiry-based learning.
He's the recipient of two Emmy Awards and has been featured on the History Channel, Food Network, HGTV, Discovery Channel, as a regular guest on The Ellen DeGeneres Show and as a science education reporter at KUSA in Denver, Colorado.
During his past appearances on The Ellen DeGeneres Show, Steve shocked Ellen with 50,000 volts of electricity, shot giant rings of smoke at audience members, filled her studio with 2,500 boxes of cornstarch for the now famous Cornstarch Water Walk experiment and toilet papered her entire studio!
Steve Spangler's Denver-based educational toy company, Steve Spangler Science, is itself an experiment in how to create a business culture where employees are rewarded for creating unforgettable customer experiences. The company's unique business strategies and attention-getting creations have been featured in the Wall Street Journal, Inc. Magazine and TIME Magazine where on-line readers voted Steve #18 in the Top 100 Most Influential People of the Year.
Toy Designer and Product Developer
Steve Spangler's company specializes in the creation of educational toys and kits and hands-on science training services for teachers. His best-selling science kits and educational toys help to get kids excited about science at home. You'll find more than 300 Spangler created products available online at SteveSpanglerScience.com and distributed to toy stores and mass-market retailers worldwide including Target, Toys R' Us and Wal-Mart. For information about purchasing Steve Spangler's licensed products, visit Be Amazing! Toys.