Best of Spangler Science 2009
It's been quite a year for us at Steve Spangler Science… in fact, when the year starts out with 50 off your closest friends helping you wish Ellen DeGeneres a Happy Birthday, you know big things are in store.  Whether we were letting fans ride on the infamous Bed of Nails at NAEYC 2009 or launching trash cans with a police force audience, we can guarantee that 2009 was never boring.  We've compiled some of our favorite highlights from the year, so feel free to browse through them and go back with us as we reminisce about our favorite moments from 2009… can you imagine what 2010 has in store?
Happy Birthday Ellen!

Our 2009 Boot Camp tour kicks off in Oklahoma City, with a great group of teachers.
Our team stormed Toy Fair and set off a few geysers in the process.
Steve Spangler Science Jelly Marbles were featured on the prime-time hit series Numb3rs.
I debuted what would become one of our most requested experiments… Laminar Flow.
The face of our Insta-Snow product, Arianne Heaton, headed to college, years after she was my student at Willow Creek Elementary.
I spoke to an awesome group of teachers at the Junior League of Greater Princeton.
I was honored to have the amazing opportunity to visit Ireland and present a seminar for the Irish Science Teacher's Association.
My St. Patrick's Day festivities earned me a (prestigious?) Geek Dad Honor.
We debuted our Experiment of the Week widget for fans and friends to post on their blogs and the downloads haven't stopped since!
I had the opportunity to let Ellen DeGeneres ride the Bed of Nails on my March appearance on Ellen's show.
We honored some amazing teachers when we celebrated Teacher Appreciation Month at SteveSpanglerScience.com.
We enlisted an unexpected "audience" when our Flying Trash Can experiments brought the police to our offices.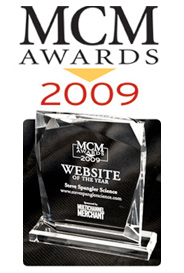 I am proud to say that we won two Multi-Chanel Merchant awards, including Best Website of the Year.
We received a Guinness World Record and educated over 5,000 students with our first annual Weather and Science Day at Coor's Field.
We took our teacher training experience to a whole new level with our first-ever Science at Sea program.
In conjunction with Klutz Press, we launched a new book, Boom Splat Kablooey!, and a new depth charge for our Geyser Tube.
I had the chance to spend some time with the Evolution of Dance guy, Judson Laipply, and record one really cool video.
I took on the media hype and helped 9News determine if the "Balloon Boy" balloon could have lifted the weight of a small child.
We launched one of my favorite products at SteveSpanglerScience.com this year… Film Canister Rockets!
After the huge success of the Bed of Nails on the Ellen DeGeneres show, we decided to bring the experience to the teachers at NAEYC 2009.
I had the opportunity to speak to a great group of teachers at the Reach Them to Teach Them conference.
Our Spangler Science team pulled off a surprise assembly for some deserving kids in the community… and taught them how to make "snow."
My son, Jack, tackled that age-old question, "Is double-dipping your chip as bad as licking the whole bowl?"

We debuted another line of educational toys in conjunction with SONIC restaurants.
https://www.stevespanglerscience.com/wp-content/uploads/2017/07/steve-spangler-science-logo-435.png
0
0
stevespanglerscience
https://www.stevespanglerscience.com/wp-content/uploads/2017/07/steve-spangler-science-logo-435.png
stevespanglerscience
2009-12-30 14:49:46
2009-12-30 14:49:46
Best of Spangler Science 2009