*Savings calculated with kits and shipping costs sold separately.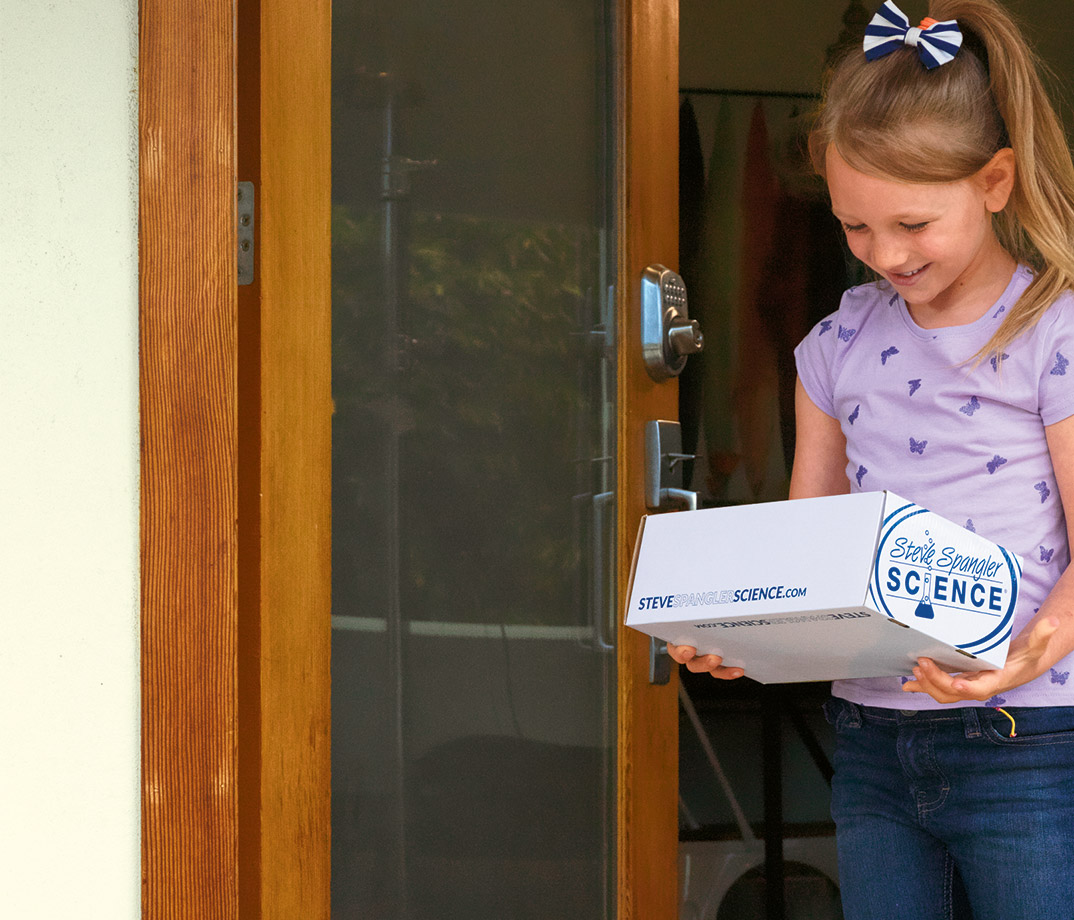 FREE
SHIPPING
(Up to $90 in savings)
with your subscription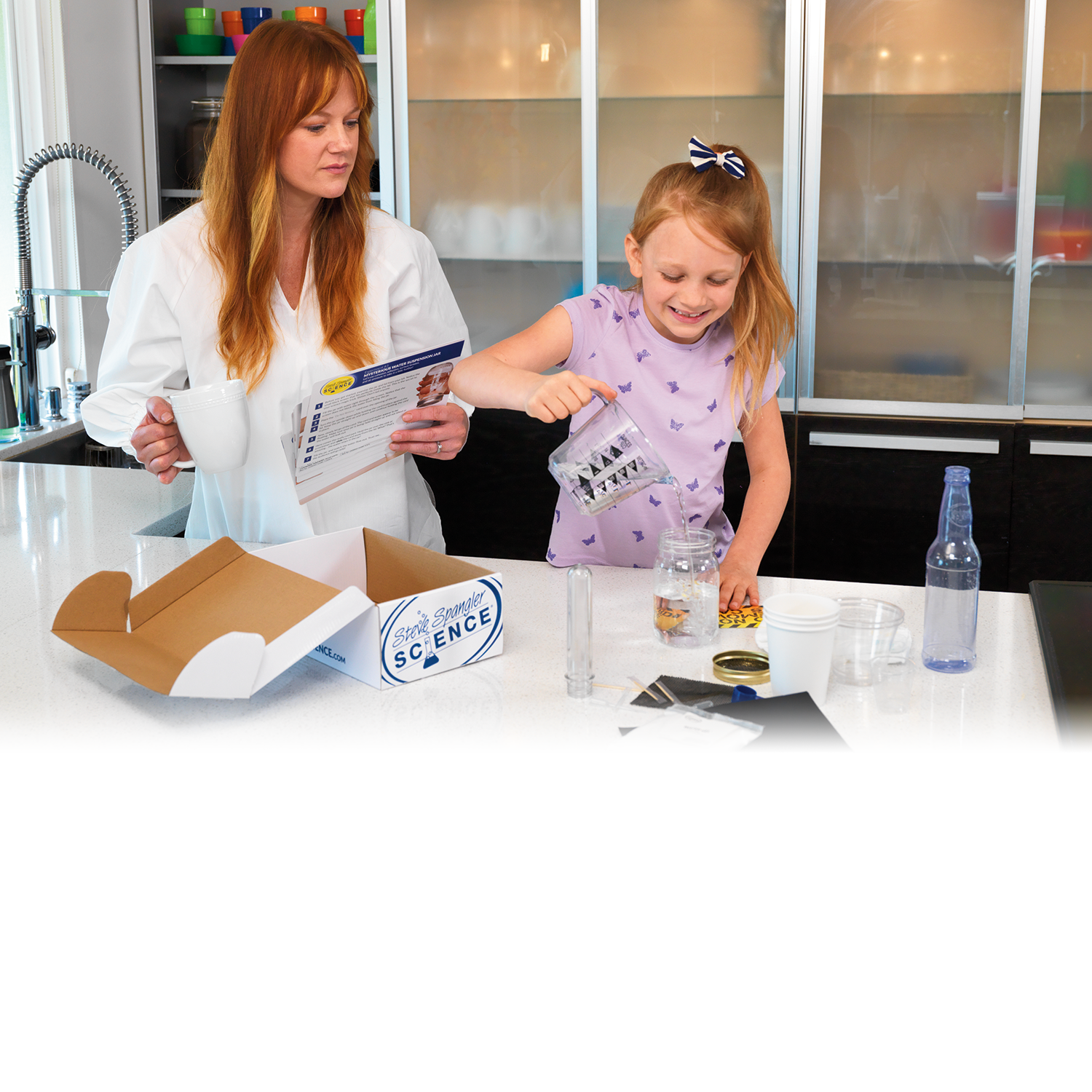 At Steve Spangler Science, we're on a mission to inspire a new
generation of scientists and engineers. A subscription to the
Steve Spangler Science Club is an easy way to teach STEM
to children with 5 to 8 hands-on experiments and challenges
in each kit, shipped directly to you. Steve Spangler pulled
together an award-winning team of science teachers and
education experts to create an experience that is the perfect
balance of learning and fun.
What's included in each kit?
Kits subject to change based on product availability.
Kit 1 – Amazing Scientist
Release your inner scientist as you observe color-changing liquids, mix-up potions and make your own test tube lava lamps!
What's included?
Baby Soda Bottle with caps
Test Tube Rack
250 mL Beaker
Clear Safety Glasses
Rubber bands (#33 size)
True Color Fizzy Tablets –(2 packs of 12)
Vegetable Oil – 4 oz
11" x 7" 2 mL Press and Seal Bag
Instruction Cards
Kit 2 – Electricity Science Kit
Welcome to the electron party! Explore the differences between insulators and conductors as you safely experiment with circuits!
What's included?
Energy Stick Conductor Blister Card
Two 19" Latex Balloon (when inflated)
Clear Cylinder with cap – (8" h x 1.5"w)
Colored Beads – (10 mL)
Six Clear PET Cup – (4 oz.)
Aluminum Foil Sheet
Instruction Cards
Kit 3 – Bubblology Science Kit
Blow perfect bubbles that you can touch, bounce and hold. You'll even be able to make a square bubble!
What's included?
Blue Bubble Wand
Blue Bubble Tray
Four Graduated Pipettes – (Clear –6" 15 cm)
Square Bubble Set
Two Black Bubble Gloves
Bubble Solution – (4 oz.)
Clear PET bottle with snap cap – (4 oz.)
Two Clear PET bottle – (2.5 oz.)
Bubble Concentrate (Dish Soap – 4 oz)
Clear PET bottle with snap cap (4 oz)
Blue Scoop
Instruction Cards
Kit 4 – Water Science Kit
Uncover the secrets behind some of the most amazing water magic tricks you've ever seen!
What's included?
Water Gel – (100 g)
Piece of Black Paper (8" x 11")
Clear Cup – (2.5 oz)
Two Clear Cups – (9 oz)
Three White Styrofoam Cup – (8 oz)
DO NOT REMOVE Instruction Card
Clear Plastic Mason Jar with lid
Baby Diaper – Size # 3
Baby Soda Bottle
Rubber band – (#33 size)
Three Micro Pipettes
Black Square Vinyl Screen – (4" x 4")
Black Circle Vinyl Screen – (7 cm)
Instruction Cards
Kit 5 – Newton's Antics Science Kit
The world of science was forever changed by Sir Isaac Newton's scientific discoveries. Get ready for things to fling, fly, twist and drop!
What's included?
Bead Strand – (50 ft)
Six Clear Latex Balloons
3.5" x 2" Card
Definition Card
Four Zinc Hex Nut ¼" Silver
Stop and Go Pendulum
Yellow Ring
Clear PET Cup – (24 oz)
Clear Bottle – (16 oz)
Instruction Cards
Kit 6 – Color Mixing Science Kit
You're about to explore a unique combination of technology and art with a splash of water-saving science. 
What's included?
Three Graduated Pipettes
Clear Liter Bottle with cap
Jelly Marbles – (25 g)
Water Jelly Crystals – (20 g)
Jumbo Graduated Test Tube w/ Cap
Two True Color Fizzy Tablets –(12 per pack)
Mixing Tray (24 wells)
Four PET Clear Cup – (16 oz)
Three PET Clear Cup – (4 oz)
Blue Scoop
Instruction Cards
Kit 7 – Power of Air
You know air supports life on earth but there's way more to it than that. In this kit, you'll take a breath and let's explore!
What's included?
Windbags – (2 Red, 2 Blue, 2 Green, 2 Yellow)
16 Rubber bands – (#33 size)
Two 1L Clear PET Bottle with cap
Tornado Tube (various colors)
Graduated PipetteClear
Zinc Hex Nut Size – (¼")
Toy Squid
Instruction Cards
Kit 8 – Physics Science Kit
The activities in this kit involve gravity, movement, and patience. They show how balance and energy play fascinating roles every day.
What's included?
Two Root Beer Component Set – (1 Plastic Root Beer Bottle, 1 Cotton String, 1 Clear Ball)
Nails with Red Nail Board
Popsicle Stick –(50 pack)
Steel Rings and Cotton String
White Pipe Cleaner
Six Zinc Hex Nut – (¼")
Instruction Cards
Kit 9 – String Slime Goo
This month's kit is all about the chemistry of ooey, gooey polymers that look like long, stringy, stretchy worms. You'll learn how to hook together long chains of molecules to make cool worm-like polymers!
What's included?
Blue String Slime  –  8 oz bottle
Clear String Slime –  8 oz bottle
Star Shape Mold
Clear Mixing Tank
Blue Scoop
Calcium Chloride Slime Activator (40g)
Six Clear PET Cup (2.5 oz)
Two Clear PET Cup (9 oz)
Popsicle Stick
Syringe (10mL)
Color Fizzers (12 pack – Magenta, Blue, Yellow)
Instruction Cards
Kit 10 – Mysterious Science Kit
Everybody loves a good mystery and science mysteries are some of the best! Dive into these activities to see just how mysterious science can be!
What's included?
Red Magic Sand – 227 g
Cornstarch – .5 lb
Blue Magic Arc
Yellow Magic Arc
Non-latex Balloon
Bounce Ball
No-Bounce Ball
Black Felt Tip Marker
Filter Paper
Popsicle Sticks
Mixing Tank
Instruction Cards
Kit 11 – Snow Science Kit
You won't believe your eyes. Just add water to the Insta-Snow® powder and in seconds the water turns into a fluffy substance that looks just like piles of deep snow. 
What's included?
Insta-Snow® Powder (100 g)
Color Fizzers – 12 pack (4 magenta tablets, 4 blue tablets, 4 yellow tablets)
1.5″, 2", 3″ Plastic Snowball Molds
Snow Block Tray
Stacking Tube
Plastic Hat, eyes, and nose
One 2.5 oz Portion Cups
One 9 oz Portion Cups
Blue Measuring Scoop
Kit 12 – Slime Art
Believe it or not, these ooey, gooey, stringy chains of molecules will help you better understand the world of polymers. Get ready… it's slime time!
What's included?
• Slime Art – Yellow, Pink and Blue (6 oz)
• Slime Activator (6 oz)
• Clear Jelly Marbles – Polymer (5 g)
• Clear Plastic Saucer
• Clear PET Plastic Cup (9 oz)
• Blue Scoop
• Clear Drinking Straw
• Instruction Cards
WHAT OUR MEMBERS HAVE TO SAY
"Our 6 year old grandson loves it when that little box shows up. Great investment in his future of understanding about how things work."
– Larry
"My 13 year old granddaughter has been receiving these boxes for a year and she loves it. She enjoys doing the experiments with an adult but the instructions are clear enough for her to follow and do them on her own."
– Debi
"I have to hide it sometimes because he will open his box before homework is taken out of his backpack. I love that he's learning about science, by doing it!"

– India
"My grandchildren ages 10, 9 and 6 absolutely love receiving their monthly science box. They work on the experiments together and their parents enjoy them too! There is enough in each shipment for all three children to learn from and enjoy."
– Jann
"Every box sparks great conversation, promoting our girls to ask more and more questions."
– Amanda
"I have been receiving these boxes for over 2 years. Not only do my 4 nephews enjoy the experiments, but I use an experiment weekly to teach Sunday school and the kids LOVE it!"
– Stephanie
Share your science discoveries
with us on Social Media