SO MUCH FUN WITH INSTA-SNOW® POWDER
Frequently Purchased Together

1
Fun science kits for kids

Simple and safe to use

Makes realistic, fluffy snow in just seconds

Top sensory toys & STEM activities perfect for classrooms and the home
Make Gallons of Fake Snow in Seconds: The Original Instant Snow Polymer
When snow is on the mind, why wait for that first snowfall? Create fake snow with our Insta-Snow® Powder! As everyone knows, snow is a seasonal phenomenon. In some areas of the country, it doesn't occur at all. Snow can't be brought inside for study or playing with friends. It's difficult to play with safely, but that's where science comes in.Your young scientists can experience hours of entertainment with Steve Spangler Science Insta-Snow Powder kits, delivering realistic and fluffy fake snow that can be dried out and reused countless times. This fake snow won't feel fake at all. Just add water and watch in amazement. Within seconds, the mixture transforms into a solid and then erupts into a fluffy, white, snow-like material. The best part? There's no stirring required. Watch as it instantly expands up to 100 times its original volume before your eyes. Our Instant Snow Powder kit is a true wonder and a versatile learning aid for the classroom or playtime.
Choose Fake Snow for Real Fun in the Classroom
Insta-Snow isn't just a cool demonstration tool. Educators have found great uses for instant snow from early childhood sensory tables to advanced chemistry experiments. No matter what quantity of Insta-Snow you choose, you'll get all of the materials you need in this comprehensive fake snow kit, including mixing instructions and an in-depth scientific explanation about polymers. When you order any of the all-in-one science kits from Steve Spangler, you'll get true wow factor and tons of real-life, scientific applications. This instant snow powder is recommended for children ages four and up with adult supervision.
The Learning Opportunities of Playing With Artificial Snow
Oh, the wonder of polymers! Explore the fun side of learning using the ever-changing science of polymers with our artificial snow kit. As students experiment with our Insta-Snow product, teachers and parents can discuss the application of polymers in everyday life. Kids will be excited to witness the magic of Insta-Snow as you explain to them how this substance changes from a liquid to a solid. Our Insta-Snow provides plenty of discussion opportunities as everyone observes its physical change and response to temperature. Our instant snow is so much fun, you may never want to go back to real snow ever again.
Why Does Fake Snow Still Feel Cold?
Since the fake snow is almost entirely made up of water, the water is bound to evaporate when exposed to warmth like your natural body heat. The process of evaporation produces a constant cooling effect, which is why Insta-Snow is so much fun for kids to touch and why it still feels cold, despite being artificial snow.
How Long Can You Use Fake Snow?
The fake snow will start to dehydrate after a few days due to the process of evaporation. If you're not ready for the fake snow powder to dehydrate, there's luckily a solution. Just spray the top of the snow with water and fluff the instant snow with your fingers to give it a fresh, renewed look. You can also let the fake snow completely dry out to use it over and over again. The dry form of Insta-Snow powder will last forever. Once it's completely dry, store your instant snow powder in an air-tight container, and take out your artificial snow whenever you're ready to use it again.
How to Make Instant Snow Igloos
Here's a recipe for instant snow creations at home. You can have fun building a snow fort, an inventive igloo or anything you can imagine by freezing blocks of Insta-Snow with an ice tray from your fridge. Though our instant snow may be artificial, it works just like the real deal!
Steve Spangler Instant Snow Science Kits
Each Insta-Snow science kit comes with an activity guide with suggestions for science fair projects and other fun ways to explore the science of polymers. Get this and other all-in-one science kits at Steve Spangler Science, where we aim to make our science experiments BIG and memorable. With science kits like our fake snow powder, we aim to excite and inspire the next generation of STEMologists!
XS – Insta-Snow Test Tube – 0.53 oz (15 g)
S – Insta-Snow Powder – 3.5 oz (100 g)
M – Insta-Snow Powder – 7 oz (200 g)
L – Insta-Snow Powder – 14 oz (400 g)
Insta-Snow Powder Frequently Asked Questions
How do I dispose of Insta-Snow?
First, make sure you can't use your Insta-Snow powder again. If your artificial snow was handled with clean hands, spread it out as thinly as possible in a dry area. Over time, the water in the instant snow powder will evaporate, leaving Insta-Snow powder that is ready to be reused.
If it is truly time to dump your Insta-Snow, do so in a trash can. NEVER PUT INSTA-SNOW DOWN THE DRAIN. If some Insta-Snow does end up clogging a drain, table salt and excess water should break down the polymer.
What are the best mixing proportions for instant snow powder?
Mixing 1 teaspoon of Insta-Snow powder with 2 ounces of room temperature water produces the best quality instant snow. It is always recommended to make the snow in small quantities to achieve the greatest amount of mixing. Insta-Snow powder expands to 100 times its original volume. Just a small amount of instant snow powder is needed to make an impressive quantity of snow. On a much larger scale, 1 pound of Insta- Snow powder makes nearly 8 gallons of fluffy fake snow!
How long does the hydrated fake snow last?
The fake snow will start to dehydrate after a few days due to evaporation. Just spray the top of the artificial snow with water and fluff the snow with your fingers to give it a fresh, fluffy look. You can also let the fake snow completely dry out to use it again. The dry form of Insta-Snow powder will last forever!
Will the fake snow ever turn back into water?
No, the fake snow will not melt since it is not really ice. However, the water can be released from the superabsorbent polymer by adding salt. The addition of salt destroys the water-absorbing properties of Insta-Snow forever.
Does Insta-Snow have to be on a special surface?
No, Insta-Snow can be used on almost any surface except untreated wood. Keep the snow off of any surface that might be damaged by water. Surfaces that are ideal include tile, plastic, and glass. Insta-Snow will not stain fabric, but normal care should be taken when applying this water-based material.
Can Insta-Snow be colored?
Yes! Just add a few drops of food coloring to the water before mixing it with the Insta-Snow powder.
Can Insta-Snow be thrown away in the trash?
Insta-Snow is very easy to clean up and can be disposed of in the trash. Just brush the surface clean or use a vacuum to pick up the instant snow. Eventually the hydrated snow will turn back into the dry instant snow powder and can be easily swept or vacuumed. Insta-Snow powder is a non-hazardous, non-toxic, environmentally safe polymer.
Is Insta-Snow safe to use outside?
Yes! Insta-Snow looks so real that it is being used by special effects artists in movies to snow outdoor scenes without damaging the plants and grass. Sprinkle the hydrated fake snow on evergreen trees to produce a realistic snow effect. In fact, the water-absorbing properties of the artificial snow are actually beneficial to the plants. Remember, Insta-Snow is very slippery when wet. Use special care to keep the snow off of any walking surface.
Insta-Snow® is a registered trademark of Steve Spangler, Inc. All Rights Reserved.
Share your thoughts!
Let us know what you think...
Film Canister Explosions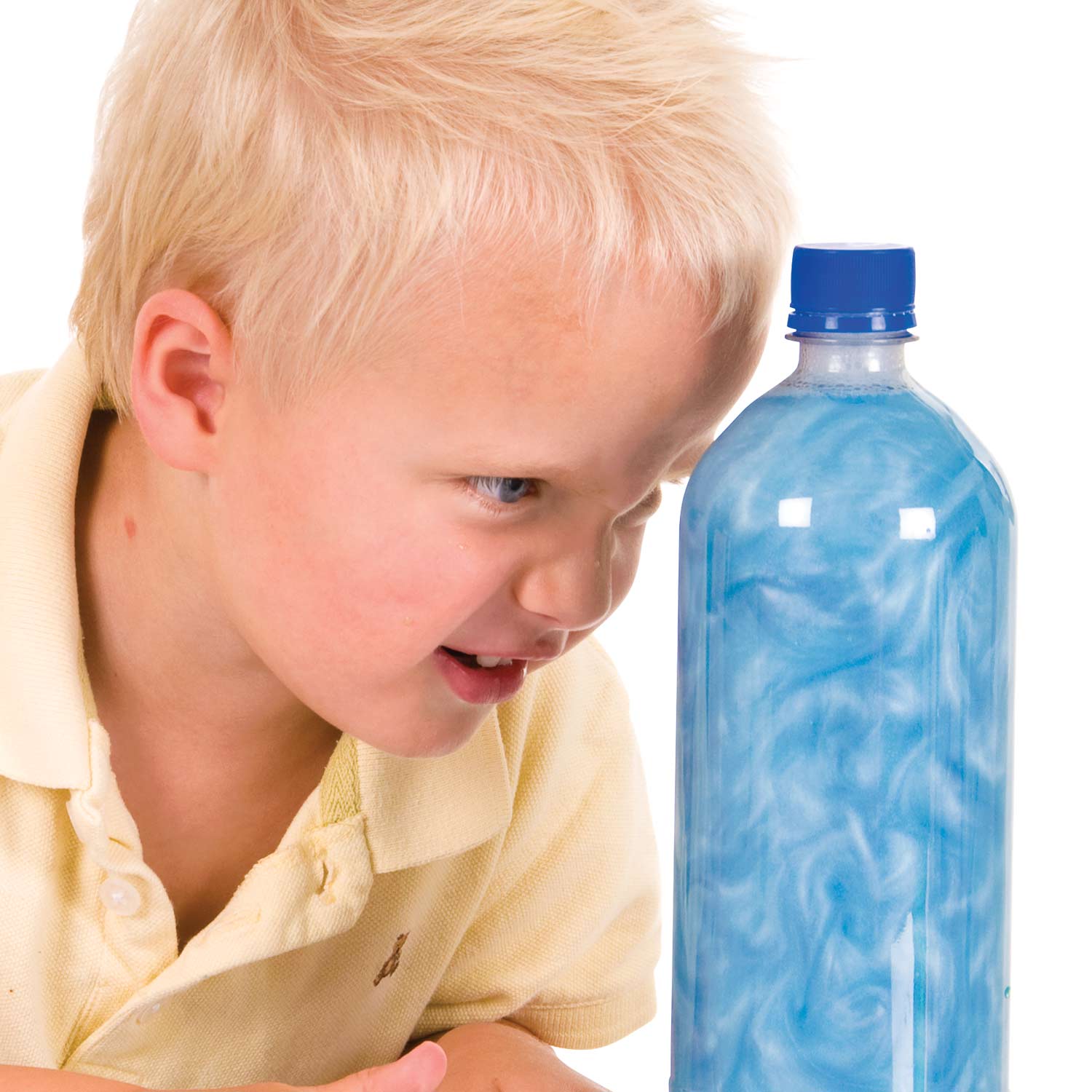 Pearl Swirl Rheoscopic Concentrate