Registration Now Open – Hands-on Science Boot Camp Dates and Cities Set for 2009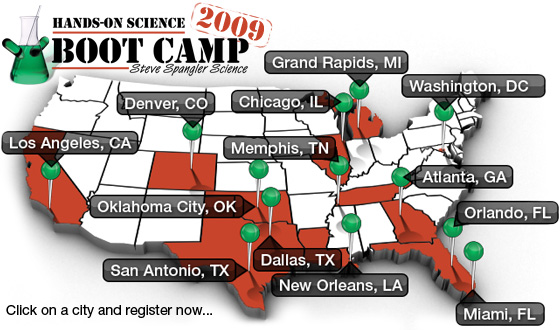 Hats off to our workshop team for finalizing all of the cities and dates for our 2009 Hands-on Science Boot Camp tour. During this year's tour, teachers asked how we decided on the cities and the answer is simple… we just loaded a blow gun with pins and shot them at the wall map. It was decided for us that we needed a more strategic approach. The upcoming tour dates and cities are all based on teacher requests for workshops. The one-day science workshop was designed for teachers ranging from Pre-K through 5th grade, but past registrations tell us that the content is appropriate for upper grades as well as home school parents, informal science teachers, museum science demonstrators, before and after school care providers and the occasional, highly-motivated parent who is trying to make a difference on their own. It's a full day of cool hands-on science activities integrated with proven teaching strategies and best practices to help teachers get students engaged in their own learning. That's our secret… engagement with a purpose leads to life-long learning.
More than just cute ideas… we need solutions!
When I asked primary teachers what would be the best way to teach science, teachers responded with a no nonsense approach. "Give us easy science activities that help our students build critical thinking skills… use the scientific method… and make them so engaging that kids want to learn more on their own." Anyone with even a small amount of teaching experience knows that science is already fun, but it also has to be relevant to the curriculum and to the real world. And teachers need science lessons that can be easily integrated into all areas of the curriculum. "The days of trying to squeeze science in at the last minute are over… we need something that is easy and really gets kids excited about using the scientific method." I'll promise you that this science teacher training is different than any other workshop you have ever experienced.
If you can't make it to one of these cities are you really want to come to Denver in the summer, join us for Science in the Rockies – July 8-10, 2009.
https://www.stevespanglerscience.com/wp-content/uploads/2017/07/steve-spangler-science-logo-435.png
0
0
stevespanglerscience
https://www.stevespanglerscience.com/wp-content/uploads/2017/07/steve-spangler-science-logo-435.png
stevespanglerscience
2008-12-11 11:14:31
2008-12-11 11:14:31
Registration Now Open – Hands-on Science Boot Camp Dates and Cities Set for 2009