Nick Uhas Appears on Today Show with Deep Voice Gas – Sulfur Hexafluoride

It's WOW Week on the Today Show and it only makes sense to bring in a YouTube science guy to share some internet classics.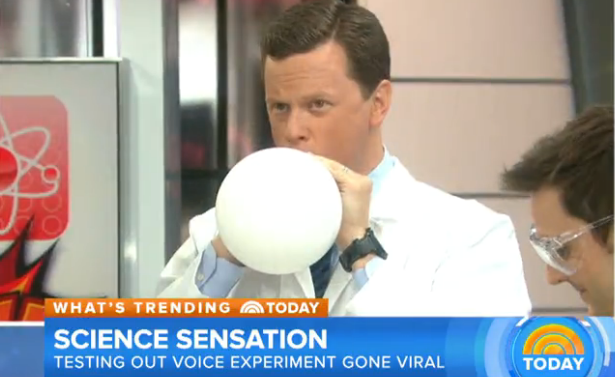 Decked out in a white lab coat and safety glasses, Nick Uhas started off with a demonstration of heavy gas… the deep voice experiment… anti-helium… or just plain old sulfur hexafluoride (SF6). This seems to be the obligatory first demo that all of us do to win over the talk show talent and set the tone for the rest of the segment. Of course, Steve Spangler is no exception. He first debuted this voice changing gas on the Ellen Show back on his first appearance in 2007.
Nick shared an instant ice experiment where he formed an inverted icicle using super cold water. This was an experiment you could try at home and one that has become quite popular on the internet as thousands of YouTubers video themselves freezing water bottles.
The big finale was a smashing pumpkin stunt where the Today Show anchors dipped a carved pumpkin in a bath of rubbing alcohol and dry ice to make a super cold solution. Nick explained this as an inexpensive version of liquid nitrogen.
Congratulations to Nick Uhas for a great science segment on the Today Show.
https://www.stevespanglerscience.com/wp-content/uploads/2015/09/sulfur-hexa.jpg
720
1280
https://www.stevespanglerscience.com/wp-content/uploads/2017/07/steve-spangler-science-logo-435.png
2015-09-30 11:03:23
2017-07-18 09:30:56
Nick Uhas Appears on Today Show with Deep Voice Gas – Sulfur Hexafluoride