The Science of Learning Through Play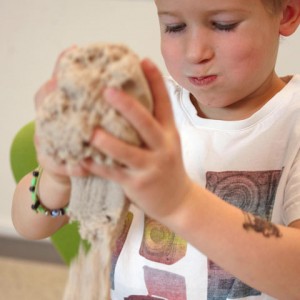 I occasionally get the honor and privilege of being the "helping dad" in my sons' classrooms. I don't know how much "helping" goes on when I'm at school because I find myself playing with the best of them. It doesn't take long for me to forget my writing deadlines or lesson plans or other responsibilities because I'm so caught up in the art of playing.
Oh, yes… there is an art and science to playing. Kids are constantly learning through play.  After a quick scan of the room, I zoomed in on the building blocks where I found a little guy who was having problems keeping his structure from falling down. It was helping dad to the rescue! I made a recommendation to my playing partner that we use big blocks on the bottom of the tower to make it more stable and to keep it from falling.
He looked at me with those 5 year old eyes and said, "That's so dumb! It's supposed to fall over". What was I thinking?
What else did I learn?
Toy cars can fly.
Red paint is boring, but red and green paint mixed together is cool.
It's more fun to color outside the lines and leave the inside white.
It fun to paint your hand.
And it's really fun to misname everything! Call the fish a hamster or the bird a flying alligator and you hit a nerve. Soon I found myself dressing a T-Rex in Barbie clothes and calling it Diana Sawyer.
I was finally learning the art of 5 year old play time.
As teachers and parents, we must remember that playing and learning go hand in hand. It took a simple experience like this to remind me that I didn't need to have a structured activity or worksheet to make a discovery, explore something new, or just to have fun. I needed this experience to remind me that I must MAKE the time to play so that I can continue to learn and grow as a teacher.
https://www.stevespanglerscience.com/wp-content/uploads/2017/07/steve-spangler-science-logo-435.png
0
0
https://www.stevespanglerscience.com/wp-content/uploads/2017/07/steve-spangler-science-logo-435.png
2004-06-14 16:58:19
2015-08-14 07:10:34
The Science of Learning Through Play