Magic Sand begins as normal looking sand, until it's dyed and coated with a substance that repels water. This coating keeps the sand dry even after it has been dumped into a container of water. Build castles and other structures under the water, then simply pour the water off when you're finished and the sand is still dry! You can use it for fun science experiments again and again! Colors vary. Recommended for children ages 4 and up.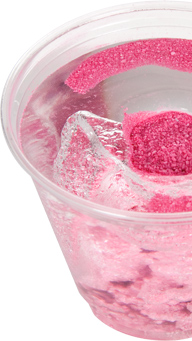 What's Included?
Magic Sand in assorted colors in your choice of 8 oz (227 grams) or 1 lb (454 grams)
How Does It Work?
Ordinary sand is free flowing and cannot form a structure that holds its shape. Because of its water-repellent properties, when Magic Sand is poured into water, it holds its shape and can even be molded into structures under water.
What Does It Teach?
Learn about the properties of water molecules and how hydrophobic products work. Students can experiment with Magic Sand and then regular sand and note the differences in water-repellent properties.
Customer Reviews
SWEET! Review by

S. Pierson

Loved it! it was awesome! I'm so so so so impressed and so were my kinds they absolutely love it! I recommend it for anyone who has kids! (Posted on 5/15/14)

Love it! Review by

Bethany

I have two children who like to be quite messy! so this is a fun activity I let them do at the kitchen table. I love that all that's needed is a bowl of water and magic sand :) my kids want to play with it all the time! (Posted on 10/30/13)

Blue Magic Sand--Does not work! Review by

Jill Tatton

I ordered one pound each of the magic sand. The yellow and pink sand worked great, but the blue sand did not do what it was supposed to do. It soaked up the water and I could not reuse once it was used. However, I would purchase the pink and yellow sand again. We used the sand as one station in a science day rotation in First Grade.

Jill-
That darn Blue Magic Sand! We definitely don't want one of your three colors performing in a disappointing manner like that. One of our customer service representatives will be contacting you very soon to try and make this Blue Magic Sand fiasco a much better experience for you.
-Steve Spangler Science Web Team

(Posted on 4/22/13)

Best Ever Review by

Cyndy Vilke

I had to get the sand from Lakeshore and it had to be thrown away after a use or two. I am able to reuse this sand over and over and I teach 5 classes of 25/year. I do have them wash their hands first but without a doubt, this is the best sand. Even the teachers who bring their classes to my lab commented how much better it is! (Posted on 4/12/13)

Blue sand does not work Review by

Sue Monroe

This is the third time I ordered magic sand for an afterschool hands on science class I teach each year. The blue sand we ordered was larger granules and did not work. It absorbed water and turned into a large mess. Luckily I had ordered some yellow too which worked great as always. We may have gotten a bad batch or it might be the way its made. The yellow is lots of fun and a big hit with my K-4 group.

Sue-
The blue sand sounds like it was way less than magic. That's not what we want at all. One of our customer service representatives will be contacting you soon to find out exactly what went wrong and try to rectify the situation for you.
-Steve Spangler Science Web Team

(Posted on 3/4/13)

The strength of water Review by

Martin

We all know water is life. For a density experience, you know that if an object does not float, you may change the density of water ( with salt, water, etc. ) and the object could float or remain in suspension ( between top and bottom ). But do you know it's strength? Before you sprinkle some sand over a glass of water, weigh your sand and small objects ( preferably identical ) that are denser than water. When you get 2-3 mm of sand on top of the glass covering the water. Put one object on the sand. What happens ? If you put the second or third one, what is going on ? Have fun playing in the sand , you are never to old to have fun in the sand. (Posted on 2/10/13)

Parents Impressed Review by

Melanie Kost

I used this to teach parents in a Sunday School class how they can teach their kids to "be in the world but not of it". You should have seen their faces! A very impactful lesson! (Posted on 1/9/13)

Super cool Review by

Kristie Lasiter

This sand really weirded us out. It's great! (Posted on 12/13/12)

9 Year olds not that impressed Review by

Monica Shadid

I was surprised that this one wasn't more exciting. Apparently there are similar items out there like this (Aquasand or something) and the 9 year old boys had already seen somthing like this already. I was far more impressed than they were. (Posted on 10/31/12)

Best Sand by Far Review by

Cyndy

I teach 6 classes on Gray Whales and Adaptations and I use this as part of that lesson. In the past we have purchased the sand from Lakeshore and I would have to replace that sand for each student pair after two classes. I didn't have to do that with this sand and I was able to save it to use again next year. Even the teachers who bring their 1st graders were impressed with how much better this sand was.

Thanks!!! (Posted on 9/20/12)

so much fun Review by

crystal

its awesome i love it!!!!!!!
(Posted on 8/6/12)

Wonderful Product Review by

kathy jean

There was plenty enough sent to send some home as part of party gifts. Loved this - the kids really thought I was magic. (Posted on 6/16/12)

Lots of fun Review by

Penny Halder

The sand is amazing and lots of fun. (Posted on 6/2/12)

Keep Them Coming! Review by

Ed

We love to use the "wow items" for discrepant events in our Harris Super Science Saturday (HSSS) programs. Our students of poverty are severely lacking in background experiences that new learning needs to be connected to. Fascinating material can get their attention, motivate them and fill in some of the gaps they have because of their lack of experiences.

Magic sand, lava lamps in the baby soda bottle test tubes, and melting blocks are some of the things we use and just this past week I attended 2 of our nighttime HSSS Meet and Greets and saw again the reaction of students and their families to investigating these fascinating materials.

So keep them coming, Steve Spangler Science!! (Posted on 5/11/12)

magic sand was a hit Review by

Julie

I gave my nephew a Mad Science 9th Birthday Party. We used the magic sand as one of the experiments. The boys loved the sand and pouring water on it. This was part of their take home goodies from the party. Great product.
(Posted on 5/1/12)

Pretty Cool Sand Review by

Nathan Carlson

My kids love this stuff! It is pretty cool. They also like saying hydrophobic! (Posted on 3/17/12)

My kid loves this stuff. Review by

Angela Hackwell

He is always experimenting with this sand. It was the one experiment in the test tubes that he wanted. Now it is sitting on my kitchen counter looking for a new home. LOL. (Posted on 2/22/12)

AWESOME!! Review by

M. Peralta

What a great trick! The kids loved it! (Posted on 2/7/12)

Love this item Review by

Lisa Britt

This is just really cool. Kids love playing with it (Posted on 12/22/11)

Fun and can be used to illustrate non scientific things Review by

Sharon

I used the magic sand in my religious education class. I showed the class how we are separate like the little grains of sand, but when we're washed with the water of baptism we're united into the church of Christ. Everyone was amazed, even the adults!

Thanks for the free sample of the mentos geyser. Still haven't tried that one. (Posted on 10/24/11)

Very Cool Sand Review by

Jane Roscoe

The kids really enjoyed playing with this sand and were amazed at its hydrophobic properties. I used this for a Sunday School lesson, as well as the Jelly Marbles. There is nothing like a hands on demonstration to get a point across. As they played with the sand (which took a long time!) there was a lot of time for discussion about the lesson. This is a great product! (Posted on 10/13/11)

Magic Sand Review by

tkm

Works as advertised. (Posted on 9/4/11)

Wish I could give 10 stars Review by

Jenny Brown

I used this as a visual aid during a lesson at teen fall retreat. The teens actually gasped. As soon as the lesson was over, they rushed up on the stage to play with the sand. They couldn't believe it. Thank you for your incredible products that make it so easy to teach an unforgettable lesson.. (Posted on 7/29/11)
How does it work?
It starts out as normal sand but is then dyed and covered with a water-repelling polymer that keeps it dry.
What colors does it come in?
The sand comes in red, yellow and blue.  If you call and talk to a customer service representative about getting a specific color, we will try our best to satisfy your request but, unfortunately, we can't guarantee what colors we have available.
Does it stain?
No. 
How long does it last?
The protective coating usually stays on for a long time but the more you play with it, the faster it wears down.  Also, soap will make the coating wear away faster.