1
Make professional grade slime with our new "no-glue" formula

Available in 6 vibrant colors that won't stain your hands

UV reactive formula glows under black light
Steve Spangler's Slime Art: It's the World's Best Slime for a Reason
Non-Glue, Easy-to-Use and Won't Stain Your Hands
Go beyond the typical off-brand glue slime and create your own version of the world's best slime with Steve Spangler's Slime Art. Our slime toy is safe, easy, and fun for everyone. Each Slime Art science kit comes with 1 liter of our high-quality PVA (polyvinyl alcohol) solution with your choice of coloring. What makes Steve Spangler slime a step above other slime science kits on the market? Our Slime Art kit includes a special formulation, unlike the competition. We have added special stabilizing agents to help to reduce the growth of bacteria while still preserving the stretchy, gooey properties of slime that everyone loves to mess around with. It's an added advantage that makes our slime-making kit safer while still being a blast for kids to experiment with!
How Does Steve Spangler's Slime Art Work?
Think of your slime toy like microscopic spaghetti – long chains of slippery, slimy molecules called polymers. The Activator Solution links together long polymer chains to form the world's best slime, so you can have endless amounts of fun. Keep your slime toy in a zipper-lock bag for safe storage and make sure to keep it off any carpet, wood surface, or anywhere else you're worried about damaging with slime. This keeps your home safe, and it allows you to store your slime toy without it drying out before your kids get a chance to play with it again.
Can I Use Slime Art to Teach My Students?
Yes, our Slime Art makes a great classroom science experiment! Making slime is a great way to showcase the concept of changing states of matter by transforming a liquid into a solid. With Slime Art, you can introduce and demonstrate the process of cross-linking long chains of molecules and explore the science of polymers as a whole. Use this slime science kit to teach students about states of matter as they witness the two liquids combine to form a solid, oozing batch of colorful slime. They will love observing and feeling the slime for themselves — a truly hands-on experience that keeps kids engaged and promotes creativity with Slime Art.
Create and Share Works of Slime Art
When you're done playing and experimenting with your slime creation, combine all of your slime into one giant pile. Find a safe surface, such as a countertop or glass table, where the slime can spread out and dry for five to seven days. When the water evaporates, your ooey, gooey slime will turn into an amazing piece of science-inspired art.
Make Slime the Way You Like It
Just mix the two liquids to create long, gooey molecular chains of polymer slime. It's that easy. Experiment with by mixing proportions to make slime the way you like it.
What Happens to Slime Under Black Light?
There's a reason why making slime art is a perfect Halloween activity. The UV-reactive formula glows under black light, so gather your friends and turn off the lights — it's time to make some black light slime. Prepare to get hands-on with ooey, gooey slime as you test the differences in luminosity between the six different colors when exposed to black light.
Slime Art: What's Included?
1 Liter (33.8 fl oz) of PVA with enhanced stabilizers (increases shelf life and reduce bacteria)

240 mL (8 fl oz) of Cross-linking Slime Activator Solution

Step-by-Step Activity Guide
Go Beyond Slime Art!
At Steve Spangler Science, we excel at making fun and creative STEM science kits that approach scientific lessons from a unique and engaging perspective. Our science kits are designed to provide great entertainment value while inspiring children to explore their curiosity and learn more about the world around them. Once you've explored our Steve Spangler Slime Art, see what else we have in store!
Want even more science fun? Our Steve Spangler Science Club offers monthly science kit subscriptions delivered right to your doorstep! Sign up for one of our plans, and look forward to diverse science experiment kits that you and your kids can create quality memories with.
Share your thoughts!
Let us know what you think...
Frequently Purchased Together
HOOK Cartesian Diver – Classroom Kit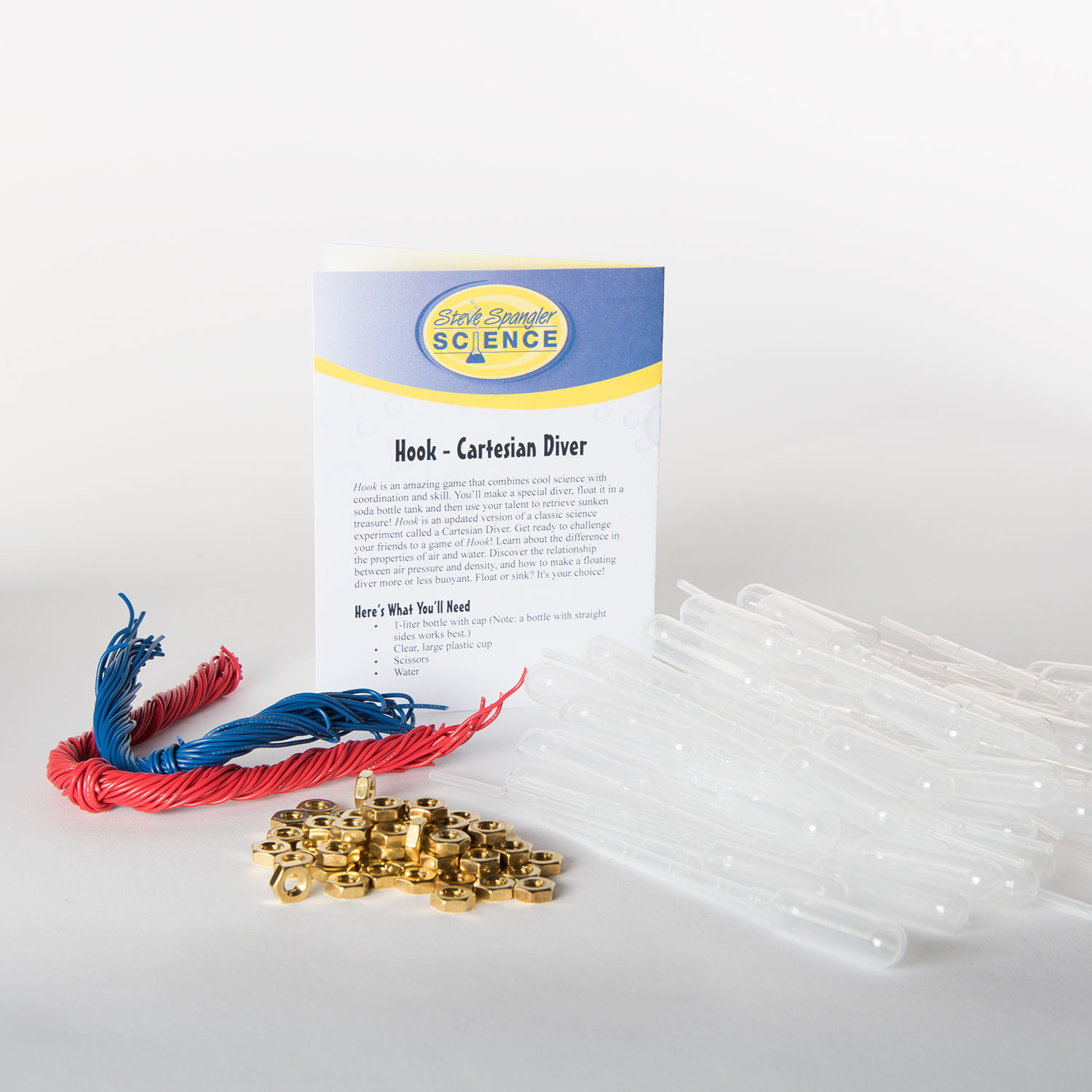 STEM Camp (5 Complete Kits)