Science in the Rockies - Teacher Training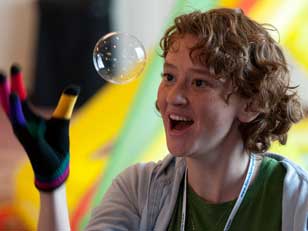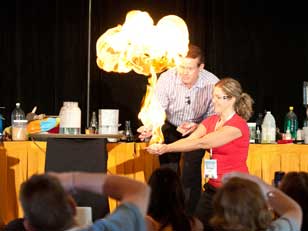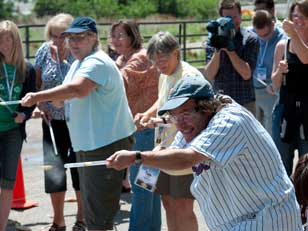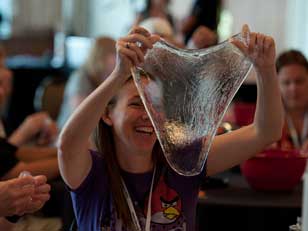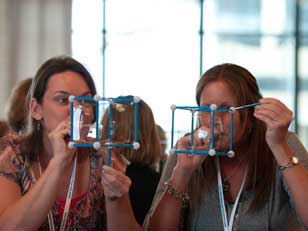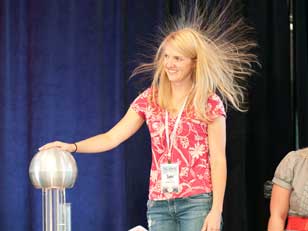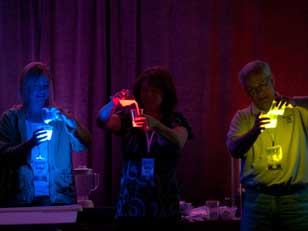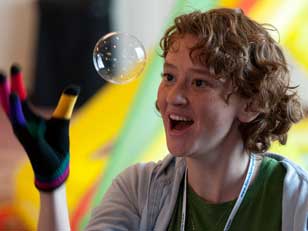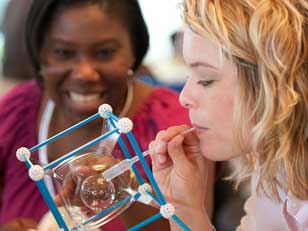 What happens when you put 150 teachers from around the world in the same room for three days with a team of instructors who are over-the-top excited about teaching science? Enthusiasm for making science fun spreads like a virus! Join Steve Spangler and his staff for an intensive hands-on science training that is guaranteed to change the way you teach science… forever.
You will leave the workshop with all the tools you need to become the best science teacher possible, including over $300 of gizmos, gadgets, hands-on learning materials for your students, hard-to-find supplies, and cool resources that accompany the Science in the Rockies curriculum. You'll also receive a 250-page training manual that details every aspect of your learning experience, from the detailed instructions and recipes to the in-depth explanations and real-world applications.
In addition to the science standards, we know that many of you are looking for creative strategies for connecting more hands-on science with the Common Core reading, writing and math objectives.
The goal of Science in the Rockies is to show early childhood educators (K-6) how to use proven best practices and teaching strategies to make science more exciting, more engaging, more interactive, and more meaningful in their classrooms.
At Science in the Rockies, you will:
Participate in more than 75 ready-to-use science activities that are inquiry-based, standards-related, and kid-tested
Learn how to develop inquiry-based activities that promote exploration and strengthen critical thinking skills
Explore how to connect great science activities with popular children's literature
Gain a better understanding of the science concepts behind the fun activities
Reinforce scientific concepts for your students with simple, fun, hands-on activities
Feel more confident in your approach to building real-world connections to simple concepts
Make students excited to learn using active learning strategies
Share ideas with other classroom teachers and learn from each other's experiences
Take home over $300 worth of teaching materials and supplies ready to be used in your classroom… TOMORROW!
Bottom line… Steve Spangler will take the fear out of teaching science and help you become a more effective science teacher… guaranteed! You'll leave this seminar with the knowledge, presentation skills, confidence, and tools to make science the favorite part of your teaching day.
Engaging Curriculum:
This is NOT Your Ordinary Workshop!
If you learn best by doing, you've come to the right place. This is not a sit-and-watch lecture… it's a hands-on experience from the moment you step through the door.
As a Science in the Rockies participant, you actually do the activities with Steve and the other instructors. You'll learn the science behind the fun while practicing how to present the science activities in your classroom. Most importantly, you'll learn how to use Steve Spangler's unique strategies for turning ordinary activities into practical experiences that teach solid science.
The workshop features numerous activities that cover the following scientific concepts: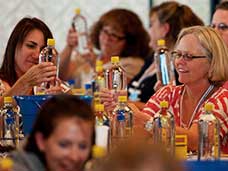 Air
Density
Light
Sound
Color
Electricity and Magnetism
Polymers
Force and Motion
Weather
States of Matter
And a few other surprises, in particular a great Halloween Science unit
Here's How You'll Spend Your Three Days:
Day 1 (8:30 am – 4:00 pm)
Day 1 is packed with over 30 eye-catching demonstrations and hands-on activities that encourage students to "play with a purpose." Learn how to help children pursue the "why-factor" and begin to wonder, discover, and explore. The instructors will model how they use a variety of techniques and presentation ideas to connect science with popular children's literature, ultimately using elements of the story line to teach and reinforce fundamental building blocks of your science curriculum. By the end of the day, your head will be spinning with ideas!
Day 2 (8:30 am – 4:00 pm)
Roll up your sleeves and get ready to start filling your bag with take-home demonstrations and hands-on science classroom activities. You'll attend breakout sessions presented by Julie Gintzler and Doug Hodous who will share their favorite standards-related activities and best practices for getting kids turned on to science. Your bag will be overflowing with creative ideas and practical solutions to implement in the classroom right away.
Day 3 (8:30 am – 12:00 pm)
It's time for the dynamic trio to showcase their best stuff and share their secrets for turning ordinary activities into true learning experiences. You'll participate in 20 additional cool science demonstrations and hands-on activities that are guaranteed to get your students thinking about science, talking about science, and doing science! There will also be an opportunity on this final day for you to share some of your best science secrets and strategies for integrating science into the elementary curriculum. The final day wraps up at 12:00 PM so that you have plenty of time to catch an early evening flight out of Denver or to head up to the mountains to enjoy your extended stay.
Dynamic Instructors:
Steve Spangler
Just "google" Steve Spangler and you'll spend the better part of a night watching segments from his television show (The Spangler Effect), viewing his on-air antics as the "Science Guy" on The Ellen DeGeneres Show, reading his articles, and browsing over 300 of his hands-on science demonstrations and videos. As a leading expert in early childhood science education and inquiry-based learning, Steve Spangler is the catalyst that drives the ever-changing Science in the Rockies curriculum. Visit www.SteveSpanglerScience.com to see Steve in action… but consider yourself warned…this stuff is contagious!
Julie Gintzler
Julie Gintzler is an early childhood specialist who joined our staff full-time after teaching full-day kindergarten for over 20 years. She earned a Master's degree in Teaching & Leadership, a Bachelor's in Elementary Education with an endorsement in Kindergarten, and an Associate's degree in Music Theory. Julie consistently receives rave reviews from participants who attend her Story Time Slime seminar and teacher training workshops that focus on integrating science and children's literature.
Doug Hodous
Doug Hodous is best known for his eye-catching demonstrations and environmental hands-on science activities. Throughout his 30 years of teaching science, Doug has received numerous awards and is a frequently requested speaker at schools and science workshops. His practical advice and hands-on teaching experience make him a wonderful asset to Science in the Rockies.
Earn Graduate Level Credit:

Teachers may earn graduate level credit, also known as professional development units, through our partnership with Brandman University. These credits are not part of a degree program, but instead are primarily used for professional advancement (such as salary increment steps and recertification). You can earn up to three credits for attending the Science in the Rockies workshop. An application for credit is given at the end of the workshop and must be completed within one month of the workshop. Payment is due with your application and is sent directly to Brandman University. More information will be provided at the workshop or upon request.
Registration Is Open!
The cost of the three-day Science in the Rockies training with Steve Spangler is $995. This price includes over $300 of take-home materials and classroom supplies and a 250-page training manual that details every aspect of your learning experience, from the detailed instructions and recipes to the in-depth explanations and real-world applications. No need to worry about how to get all of your materials back home on the airplane… we will ship them (for a flat rate) right to your front door! The registration fee also includes a continental breakfast each morning!
Registration by Credit Card
Registering by credit card is a fast and easy way for you to reserve your seat at the workshop. Your card will be charged when you register, and a receipt will be sent to you via email.
Registration by Check or Purchase Order
If you are paying by check, please let us know if the billing address is different from your school address. If you are paying by purchase order, please fax or mail a copy of your registration with your purchase order. An invoice will be sent to the school address you provide unless otherwise noted on your purchase order.
Mail checks or purchase orders to:
Steve Spangler Science
Science in the Rockies
4400 South Federal Blvd
Englewood, CO 80110
Fax #: 866-795-9936
Payment Terms
Please contact Carly at (800) 223-9080.
Refund Information
To receive a full refund, cancellation must be made four weeks prior to the event. Any cancellation made after the three-week deadline will only be eligible for a 50% refund. Workshop materials are not mailed to registrants who are unable to attend.
Travel Information:
Science in the Rockies
Denver, Colorado
July 7-9, 2015
Day 1 - 8:30 AM to 4:00 PM
Day 2 - 8:30 AM to 4:00 PM
Day 3 - 8:30 AM to 12:00 PM
Hotel Information
The Sheraton Denver West Hotel is the official conference hotel for Science in the Rockies. The hotel is located just 30-45 minutes from Denver International Airport. A special group room rate of $139 per night for Science in the Rockies attendees has been set up. Please contact the hotel directly to make your reservations.
Discounted rooms are limited, so please be sure to make your reservations early.
Sheraton Denver West Hotel
360 Union Blvd
Lakewood, Colorado 80228
(303) 987-2000
Denver International Airport (DIA)
Visit www.FlyDenver.com to find a flight or learn more about the airport. The Denver International Airport is located 30-45 minutes from the hotel.
Transportation to the Hotel
Want to explore while you are in town? A discounted rate with Hertz has been set up for all Science in the Rockies participants. Details on how to get the discount will be provided in your confirmation email.
Looking for someone else to do the driving? SuperShuttle offers a discounted round trip rate of $58 to all of our participants. Look for the discount code in your confirmation email.
How much does the workshop cost?
The cost of the workshop is $995.
What does the price include?
The price of the workshop includes three days of hands-on science training as well as over $300 worth of classroom materials and a comprehensive notebook full of activities and resources. We also provide a light continental breakfast each morning and plenty of exciting surprises!
Is there a discounted hotel room rate?
Yes! The Sheraton Denver West Hotel in Lakewood, Colorado, is the official hotel of Science in the Rockies. When you register for the workshop you will be given a special discount code to use with the hotel for our discounted room rate of $139 per night.
Will transportation be provided to and from the workshop and the airport?
We have a special arrangement for our Science in the Rockies participants to receive a discounted rate through Super Shuttle and Hertz.
What if I need to cancel?
We understand that you may need to cancel your reservation before the workshop. As long as you call our offices and cancel up to three weeks before the workshop, you will receive a full refund. Cancellations made after the three-week mark will be eligible for a 50% refund.
Do you offer group discounts?
Yes! If you are sending a large group, please contact Carly at 800-223-9080 to discuss pricing options.
I'm not a teacher but I would still like to attend the workshop… can I come?
Our Science in the Rockies workshop is designed for teachers. If you are not a teacher, please contact Carly at 800-223-9080 to talk about what programs may be the best match for you.
Does the workshop align with my state's academic standards?
Science in the Rockies is aligned with the Next Generation Science Standards as of 2013. You will received all of the alignments for your grade with your materials. We also send you home with common core connections!
Your website says the workshop is for Pre-K through Elementary teachers… would it be beneficial for higher grades as well?
While Steve gears his workshops primarily for the younger grades, attendance and teacher feedback have shown us that teachers from every grade level will be able to take something away from the experience. Some of the lessons may require a bit of adaptation, but the overall methodology of getting students excited about learning is perfect for any age.
How is Science in the Rockies different from the other teacher training opportunities offered by Steve Spangler Science?
Science in the Rockies is a three-day, intensive workshop in Colorado. Other professional development opportunities with Steve take place around the country and are only one-day (six hours) in duration. Science in the Rockies goes into much more depth about the scientific concepts and teaching strategies than the Hands-On Science Boot Camp and Steve's other introductory teacher training programs. At Science in the Rockies, you will receive over $300 of materials and supplies to take home with you so that you can start implementing Steve's science activities and strategies immediately. The other introductory workshops provide a "Survival Kit" that offers enough supplies to participate in the activities at the workshop with a few added gizmos and gadgets to share with your students. The notebook that accompanies the Science in the Rockies curriculum is 250 pages long. All of our professional development opportunities are great, but Science in the Rockies is Steve Spangler's ultimate teacher training experience.
In my thirty plus years of teaching this was the best hands on workshop I ever attended. – Jerry Mohar, Retired
The Science in the Rockies program is absolutely INCREDIBLE!!! I would recommend this workshop to all teachers K-12 and beyond. You will findways to incorporate it into your entire curriculum this school year. Become "THAT" Science teacher. You know... the one that is always requested by students! – Lisa Marie Roberts, 3rd grade
Having travelled from NZ to attend SITR, I was thrilled with the energy Steve shared with us and the amount of information and confidence in using the equipment I gained over the three days. His demonstrations have encouraged me to try new resources to explore chemistry and physics. – Joy Kit, 2nd grade
Everything I got from you all is not connected to the "stuff" I have to cover, but as Steve pointed out, it doesn't have to be. I thought it did have to be. My eyes were opened up to endless possibilities. Get ready to experience the best hands-on approach to science you will ever be a part of. You will come home full of ideas, free stuff, and best of all, hope for the future of your teaching career. – Angela Pecor, 7th grade
Steve and all of his team were motivating and some of the nicest people I have ever met. I came back with tons of ideas and ready to implement them in the classroom. Deb Minter, Curriculum Specialist
Science In The Rockies was absolutely worth everything I invested into it, I only with I had not waited so long to attend, I should have come years ago. I was so excited to return home and share what I had learned with the children and parents in my program as well as professional colleagues in my community. – Linda Hartung, Elementary Science Specialist
My primary goals were to bring science alive, find new activities and experiments, network with other professionals in a similar field and strengthen my skills in inquiry based learning to help my program become dynamic. Attending this workshop absolutely helped me to either obtain these goals or set me on a path to get there. 2013 - Science in the Rockies Participant
Hands-down the BEST teacher conference I have ever attended. Steve's dynamic personality brings science alive and real! Being actively involved and participating in the hands-on activities helps me to bring my science classes to a whole new intense level while strengthening the students' critical thinking skills and creating wonderment. My only regret is I waited too long to attend Steve Spangler's Science in the Rockies! – Lori Granite, K-3 Science Teacher
I learned more at this conference then I have learned at all other conferences I have ever been to in 17 years of teaching, combined! I now have the ability to make my students leave my class saying, "Wow, that was awesome!" not just one day, but many, many days! - Scott Slonim, STEM Specialist K-5
Science in the Rockies is the most excitement you can have for continuing education. Over 100 teachers and professionals from around the world coming together and sharing in the amazement of science and the world around us - what can be better? Seeing all the wheels turning in teachers heads is about as cool as seeing your students have that "click" moment! – Rachel Shannon, 4th grade
I traveled all the way from Germany and it was absolutely worth the trip. - Maike Denecke-Wittern, 3rd grade
I have been in science education for 44 years and Science in the Rockies was the best organized and enjoyable conference I have ever attended. I left feeling rejuvinated and went home to integrate all the materials I got from the conference with all the science materials I already had. I organized them in plastic containers as suggested in the workshop. – Betty Paulsell, Pre-K – Graduate School
Science in the Rockies was the best professional development conference I have attended throughout my teaching career! I am excited to go back into my classroom and share all that I have learned with my students! - Michelle Price-Stull, 3rd grade
I have been to SITR 3 times now and would be more than happy to return. The enthusiasm of the Spangler Staff brings me back every time. Each time I get new lessons, get new perspectives on other experiments, and get a chance to hear ideas from other teachers about how they may implement things taught to them. These are the reasons I plan on returning again. - Cyndy Vilke, K-3
My goal is was to take home new ideas to implement in the classroom immediately. Steve and the entire Spangler Science team were so effective in helping me accomplish my goal. – Ann Marie Niziolek, 3rd grade
Science in the Rockies was a wonderful, fun, worthwhile experience! It is a wonderfully engaging workshop that is easily transferred to your own classroom. I have used the materials and resources that were given at the workshop. - DeAnn Gobin, 2nd grade
As an education major at High Point University, Science in the Rockies motivated me to become the best teacher I can be. I learned that student engagement is the most important aspect of the classroom. If you love what you do, so will your students! – Leah Villarreal, Student
I have been to many professional development workshops over the years, and this was unlike anything else. Every detail was planned perfectly by the Steve Spangler staff, and we had every last thing we needed to learn and participate. The ideas were new, and gave me the tools I need to have an incredibly exciting school year! It is an experience I will never forget. – Kristen Kischnick, 2nd grade
This experience was all about finding the best and most creative ways to focus my students on using the scientific method in their everyday lives. – Susan Togioka, 6th grade
I've had 35 years in the classroom, more than 100 credits worth of classes beyond my master's degree, and hundreds of school professional development inservices. SITR was better and more effective than any of them! I'll be back! – Bruce Oxley, Pre-K – 5 Science Specialist
Be warned, there are going to be many, many posts exclaiming how wonderful this conference is and how it is definitely worth your time to go and it's 110% true! Not only will your head and suitcase explode with knowledge and materials, you'll also leave with a great feeling knowing you met some of the most interesting and nicest people you'll ever come across. Never have I been to a conference where people are so accommodating and friendly! --Alyssa
You people really know how to put 'excellence' in absolutely EVERY aspect of EVERY thing you do! You blow me away!! --Jan from Crawford, Colorado
Thanks for the fantastic organization of materials and all of the fun activities! I'm so amazed at the price of your conference with all of the supplies we receive. I attend other conferences for $700 and receive only a DVD! --Teacher from SITR 2010
I was blown away. Thank you for helping me "believe" I am a scientist. --Teacher from SITR 2010
I had an awesome time! I can't wait to get back to school and share what I've learned!! --Teacher from SITR 2010
Steve, you're absolutely wonderful and so is your team. Everything flows so smoothly. I have never had so much fun in my life! I feel like a kid again. Keep it coming!!! --Teacher from SITR 2010
I am still on cloud 9 about the conference… The literacy connection is very useful for us in the early childhood education field; the combination of science and literacy helps us achieve new NAEYC curriculum standards. Thanks again for a great experience! --Nan
I haven't stopped talking about what I learned since I returned to Missouri. Yesterday at our district convocation, I connected with a high school chemistry teacher (I teach kindergarten). I'm excited to explore the possibilities! … I can't wait to start school and share the lessons with my students. Thanks for a wonderful 3 days!! --Barb
The conference was outstanding! I had to redo my cabinets to fit all the new supplies - THANKS! Our principal loved the potato launcher - I took it to school with potatoes and she was having fun in the parking lot. The principal wants others to go to the conference next year too. Again, thank you to ALL the great staff for a fun and professional conference! --Sarah
Unforgettable Science in the Rockies was an unforgettable experience! Thanks again Steve and staff! --Kim Your workshop truly changed how we do science here! --Heather