Hands-on Science Boot Camp Tour Learn How to Make Science Even More Meaningful and Fun!
Hands-on Science Boot Camp Tour
We are working hard on the details for the next Hands-on Science Boot Camp Tour. Fill out the form below if you are interested in having Steve come to your city or you would like to be notified when registration opens.
Steve Spangler's Hands-on Science Boot Camp™ is a full-day workshop for Pre-K and elementary teachers who need creative science integration strategies, who are tired of trying to "squeeze" science into their already packed teaching schedule, and who want to make science even more fun and meaningful for their students.
More Than Just Cute Ideas... We Need Solutions!
When Steve Spangler asked primary teachers what would be the best way to teach science, teachers responded with a no-nonsense approach... "Give us easy science activities that help our students build critical thinking skills, use the scientific method, and are so engaging that kids want to learn more on their own." Let's face it, science is already fun, but it also has to be relevant to the curriculum and to the real world. In addition, teachers need science lessons that can be easily integrated into all areas of the curriculum. Steve listened when teachers said: "The days of trying to squeeze science in at the last minute are over... we need something new and easy."
Hands-on Science Boot Camp is Like Basic Training
A "boot camp" is quick, intense, and excellent preparation for the real-world application in the classroom. Teachers, like students, learn best by doing. This is not your ordinary sit-and-watch teacher training. The Hands-on Science Boot Camp is an active participation workshop from the very beginning. Through examples of classroom applications, you will learn how to reinforce scientific concepts through hands-on activities and how to develop inquiry-based activities that promote exploration and strengthen critical thinking skills.
Take Home $35 of Hands-on Science Materials
You will receive a "Survival Kit" filled with gizmos, gadgets, and learning tools that will allow you to practice dozens of amazing and simple science activities with Steve during the workshop. The "Survival Kit" is yours to take home, along with a 65-page activity guide, to help you implement what you learned at the workshop and to get your students excited about science.
In just one day, you'll be well on your way to using Steve's strategies for creating unforgettable learning experiences for your students. You'll leave the Hands-on Science Boot Camp with the knowledge, preparation, tools, and confidence to become the best science teacher possible.
"I love the integration of science with children's literature. You just opened my eyes to a whole new way to teach science."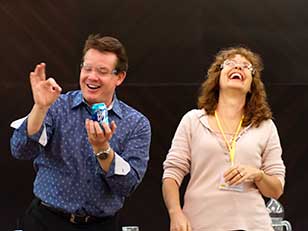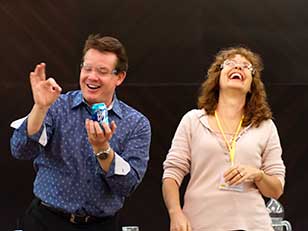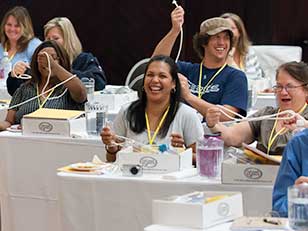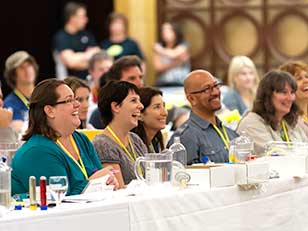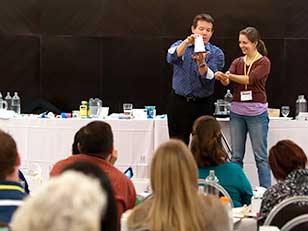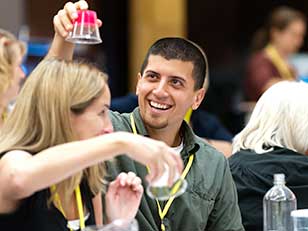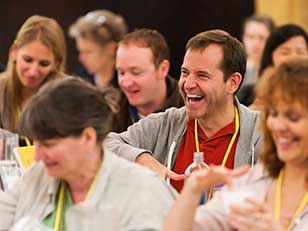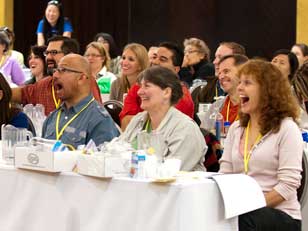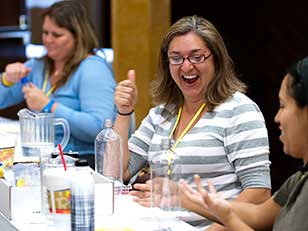 "No one said that I would laugh this much. Yes, you can laugh and learn at the same time. This was just the shot in the arm that I needed."
Why You Should Attend?
The goal of the Hands-on Science Boot Camp is to introduce participants to a variety of science demonstrations, experiments, and thought-provoking ideas that are intended to challenge inquisitive minds and open the doors to further exploration. These activities will spur discussion and reinforce fundamental scientific principles that are commonly taught at the elementary level. Most importantly, the questioning in each activity will prompt students to think more like scientists and to solve challenging problems using the basic principles of scientific inquiry.

At Steve Spangler's Hands-On Science Boot Camp, you will...
Participate in more than 30 ready-to-use science activities that are inquiry-based, standard-related, and kid-tested
Develop inquiry-based activities that strengthen critical thinking skills and challenge students to ask the important "Why?" questions
Use elements of the story line in popular pieces of children's literature to teach and reinforce fundamental building blocks of your science curriculum
Discover ways to use attention-grabbing science experiments as daily writing prompts
Gain a deeper understanding of the real science behind all the fun activities
Use the "Failure Model" to teach the scientific method
Learn how to become a more effective science teacher without spending more money
Develop classroom safety procedures to protect yourself and students against common accidents
Turn ordinary science activities into unforgettable learning experiences
Steve Spangler's Hands-on Science Boot Camp is guaranteed to provide you with a whole new perspective on teaching science.
What other are saying:
Reignite the Teaching Flame
"Thanks for an incredible day… I appreciate so much your enthusiasm, passion, and knowledge to re-ignite our teaching flame!"

--Jeanne from Orlando, FL
Fantastic Workshop
"Thanks for a fantastic workshop. There is not one thing I will not try with my fourth graders."

--Michele from Ironton, MO
Great Message
"What a great day! The projects are fabulous, but your message is even better. Thanks for a wonderful day of learning!"

--Cathy from Shoreline, WA
Best time I've ever had at a workshop!
"That was the BEST time I have ever had at a workshop!! I couldn't believe it when I would look down at my watch and see an hour had passed... 2 hours had passed... it was time for lunch... it was afternoon break... it was over!!!! Loved every minute of it… can't wait to come to another one!!! Thanks again!!"

--Cindy
The Experience
It's a Way to Spice Up Your Current Science Curriculum
This seminar is designed to meet the practical needs of busy elementary school teachers who want to make science more exciting, stimulating, and meaningful. As a Hands-on Science Boot Camp participant, you actually do the activities with Steve. You'll learn the science behind the fun while practicing how to present the science activities in your classroom. You'll participate in more than 30 eye-catching demonstrations and hands-on activities that help children pursue the "why factor" of wonder, discovery, and exploration. It's more than just fun… it's "play with a purpose."
This full-day workshop curriculum includes activities that reinforce the following scientific concepts...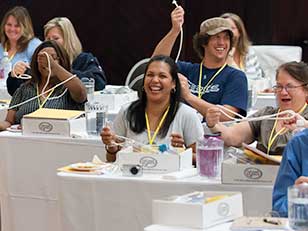 Air
Color
Light
Magnetism
Weather
States of matter
Chemistry
Force and motion
And a few other surprises, including Steve's ooey, gooey supermarket science
By the end of the day, your head will be filled with creative ideas that you can put to use immediately.
Dynamic Instructor:
Steve Spangler

Just "google" Steve Spangler and you'll spend the better part of a night watching segments from his television show (The Spangler Effect), viewing his on-air antics as the "Science Guy" on The Ellen DeGeneres Show, reading his articles, and browsing over 1,000 of his hands-on science demonstrations and videos. His YouTube science videos receive more than 60 million views a year, and his partnership with YouTube has give his new showed called The Spangler Effect worldwide attention as a fun way to get people excited about doing science at home. As a leading expert in science education and inquiry-based learning, Steve Spangler is the catalyst that drives the ever-changing content that is available for free at SteveSpanglerScience.com. Go ahead... browse his experiment library, read a blog post or watch an episode of The Spangler Effect… but consider yourself warned… this stuff is contagious!
Earn Graduate Level Credit:

Teachers may earn graduate level credit, also known as professional development units, through our partnership with Brandman University. These credits are not part of a degree program, but instead are primarily used for professional advancement (such as salary increment steps and recertification). You can earn up to two credits for attending the Hands-On Science Boot Camp workshop. An application for credit is given at the end of the workshop and must be completed within one month of the workshop. Payment is due with your application and is sent directly to Brandman University. More information will be provided at the workshop or upon request.
What other are saying:
Amazing Experience
"I learned and laughed so much. I wish I had been a part of this workshop 10 years ago. A "must-have" experience for every teacher."

--Jeff from San Antonio, Texas
Stoked!!!
"I am so stoked!!! This is the best seminar I have ever attended. It was insightful, fun, exciting, fun, educational, fun, inspired, fun and did I say fun??? I will take the "science torch" and show other teachers how much "fun" science is and can be. It's a new way to discover the understanding and exploration of science that you can take to any grade level. Thank you!"

--Janet from Portland, OR
Ecstatic
"ENGAGING! PRACTICAL! INSPIRING! Thank you so much."

--Pam from Siloam Springs, AR
Love the experiments from the workshop
"The workshop was the best workshop I've gone to in 9 years! I'm all about making science exciting, hands-on, and fun for kids! Steve makes it so easy to do. I have gone back and done quite a few of the experiments from the workshop--my class LOVED all of them! Nothing like seeing those HUGE eyes and excitement on their faces. Thank you for a wonderful workshop."

--Michelle
Personable, Friendly, and Helpful
"I attended the Science Boot Camp in Tampa and it was fantastic. I have been to many workshops over the years and have been disappointed in some of them. This training was a lot of fun and gave valuable ideas that I can use in my classroom immediately. Steve, as well as the people assisting him, was very personable, friendly and helpful. I can't wait to start using these demonstrations for investigations with my Kindergarten students. The two other teachers from my school were very excited about the information as I am. I would highly recommend this workshop to anyone. Thanks again."

--Ellen
Registration:
Registration by Credit Card
Registering by credit card is a fast and easy way for you to reserve your seat at the workshop. Your card will be charged when you register, and a receipt will be sent to you via email.
Registration by Check and Purchase Order
If you are paying by check, please let us know if the billing address is different from your school address. If you are paying by purchase order, please fax or mail a copy of your registration with your purchase order. An invoice will be sent to the school address you provide unless otherwise noted on your purchase order. Payment must be received, in full, at least two weeks prior to the workshop.
Mail checks or purchase orders to:
Steve Spangler Science
Hands-On Science Boot Camp
4400 South Federal Blvd
Englewood, CO 80110

Fax #: 866-795-9936
Payment Terms
To attend the workshop we must receive payment, in full, two weeks prior to the date of the workshop. If we have not received payment by the day of the workshop you will be asked to provide a credit card at registration. A late fee of $20 per registration will be applied if payment is not received within terms. For any questions regarding payment, please contact DJ at 800-223-9080.
Refund Information
To receive a full refund, cancellation must be made two weeks prior to the workshop. Any cancellation made after the two-week deadline will only be eligible for a 50% refund. Workshop materials are not mailed to registrants who are unable to attend.
"Finally… a workshop with ideas that really work. This is a great example of how teachers should experience science training."
FAQ's:
How much does the workshop cost?
The cost of the workshop is $199 if paying by credit card and $249 if paying by check or purchase order. Please note that all registrations must be paid in full two weeks prior to attending the workshop.
What does the price include?
The price of the workshop includes a full day of hands-on science training as well as a "Survival Kit" full of take-home supplies and a comprehensive activity guide that you can use with your students immediately. We also provide a light continental breakfast and plenty of exciting surprises!
Can I use a purchase order to pay for my registration?
We do accept purchase orders to hold your space at the workshop. However, the purchase order must be paid in full at least two weeks prior to the workshop to guarantee your registration.
What if I need to cancel?
We understand that you may need to cancel your reservation before the workshop. As long as you call our offices and cancel up to two weeks before the workshop, you will receive a full refund. Cancellations made after the two-week mark will be eligible for a 50% refund.
I'm not a teacher but I would still like to attend the workshop... can I come?
Our Hands-On Science Boot Camp is designed for teachers. If you are not a teacher, please contact Carly at 800-223-9080 to determine if we have a workshop that would be a good fit for you.
Your website says the workshop is for Pre-K through Elementary teachers... would it be beneficial for higher grades as well?
While Steve gears his workshops primarily for the younger grades, attendance and teacher feedback have shown us that teachers from every grade level will be able to take something away from the experience. Some of the lessons may require a bit of adaptation, but the overall methodology of getting students excited about learning is perfect for any age.
Additional Information
All Programs
Event Booking
Press Center