Subscriptions renew automatically.
What's included in each kit?
Kit 1 – Amazing Scientist
Release your inner scientist as you observe color-changing liquids, mix-up bubbling potions and make your own test tube lava lamps!
What's included?
Baby Soda Bottle with caps
Test Tube Rack
250 mL Beaker
Clear Safety Glasses
Rubber bands (#33 size)
True Color Fizzy Tablets –(2 packs of 12)
Vegetable Oil – 4 oz
11" x 7" 2 mL Press and Seal Bag
Instruction Cards
Kit 2 – Electricity Science Kit
Explore the differences between the insulators and conductors. You'll use a device that tests the way electrons flow through different things.
What's included?
Energy Stick Conductor Blister Card
Two 19" Latex Balloon (when inflated)
Clear Cylinder with cap – (8" h x 1.5"w)
Colored Beads – (10 mL)
Six Clear PET Cup – (4 oz.)
Aluminum Foil Sheet
Instruction Cards
Kit 3 – Bubblology Science Kit
Blow perfect bubbles that you can touch, bounce and obey your every command. You'll even be able to make a square bubble!
What's included?
Blue Bubble Wand
Blue Bubble Tray
Four Graduated Pipettes – (Clear –6" 15 cm)
Square Bubble Set
Two Black Bubble Gloves
Bubble Solution – (4 oz.)
Clear PET bottle with snap cap – (4 oz.)
Two Clear PET bottle – (2.5 oz.)
Bubble Concentrate (Dish Soap – 4 oz)
Clear PET bottle with snap cap (4 oz)
Blue Scoop
Instruction Cards
Kit 4 – Water Science Kit
Uncover the secrets behind some of the most amazing water magic tricks you've ever seen!
What's included?
Water Gel – (100 g)
Piece of Black Paper (8" x 11")
Clear Cup – (2.5 oz)
Two Clear Cups – (9 oz)
Three White Styrofoam Cup – (8 oz)
DO NOT REMOVE Instruction Card
Clear Plastic Mason Jar with lid
Baby Diaper – Size # 3
Baby Soda Bottle
Rubber band – (#33 size)
Three Micro Pipettes
Black Square Vinyl Screen – (4" x 4")
Black Circle Vinyl Screen – (7 cm)
Instruction Cards
Kit 5 – Newton's Antics Science Kit
The world of science was forever changed by Sir Isaac Newton's scientific discoveries. Get ready for things to fling, fly, twist and drop with this kit!
What's included?
Bead Strand – (50 ft)
Six Clear Latex Balloons
3.5" x 2" Card
Definition Card
Four Zinc Hex Nut ¼" Silver
Stop and Go Pendulum
Yellow Ring
Clear PET Cup – (24 oz)
Clear Bottle – (16 oz)
Instruction Cards
Kit 6 – Color Mixing Science Kit
You're about to explore a unique combination of technology and art with a splash of water-saving science. 
What's included?
Three Graduated Pipettes
Clear Liter Bottle with cap
Jelly Marbles – (25 g)
Water Jelly Crystals – (20 g)
Jumbo Graduated Test Tube w/ Cap
Two True Color Fizzy Tablets –(12 per pack)
Mixing Tray (24 wells)
Four PET Clear Cup – (16 oz)
Three PET Clear Cup – (4 oz)
Blue Scoop
Instruction Cards
Kit 4 – Power of Air
You know air supports life on earth but there's way more to it than that. Take a breath and let's explore!
What's included?
Windbags – (2 Red, 2 Blue, 2 Green, 2 Yellow)
16 Rubber bands – (#33 size)
Two 1L Clear PET Bottle with cap
Tornado Tube (various colors)
Graduated PipetteClear
Zinc Hex Nut Size – (¼")
Toy Squid
Instruction Cards
Kit 8 – Physics Science Kit
The physics activities in this months kit involve gravity, movement, and patience. They show how balance and energy play fascinating roles every day.
What's included?
Two Root Beer Component Set – (1 Plastic Root Beer Bottle, 1 Cotton String, 1 Clear Ball)
Nails with Red Nail Board
Popsicle Stick –(50 pack)
Steel Rings and Cotton String
White Pipe Cleaner
Six Zinc Hex Nut – (¼")
Instruction Cards
Kit 9 – String Slime Goo
Explore the science of building polymers by cross-linking long chains of molecules and create shapes with chemistry!
Kit 10 – Fizz Pop Science Kit
An explosive lesson in air pressure and motion, using the flat Fizzers and water to make a rocketing film canister!
Kit 11 – Concoctions Kit
Discover amazing reactions that have been hiding right in front of you! Explore some science secrets right at your own home!
Kit 12 – Slime Art
This kit introduces the concepts of changes in states of matter (from a liquid to a solid). Learn how to make amazing slime art creations!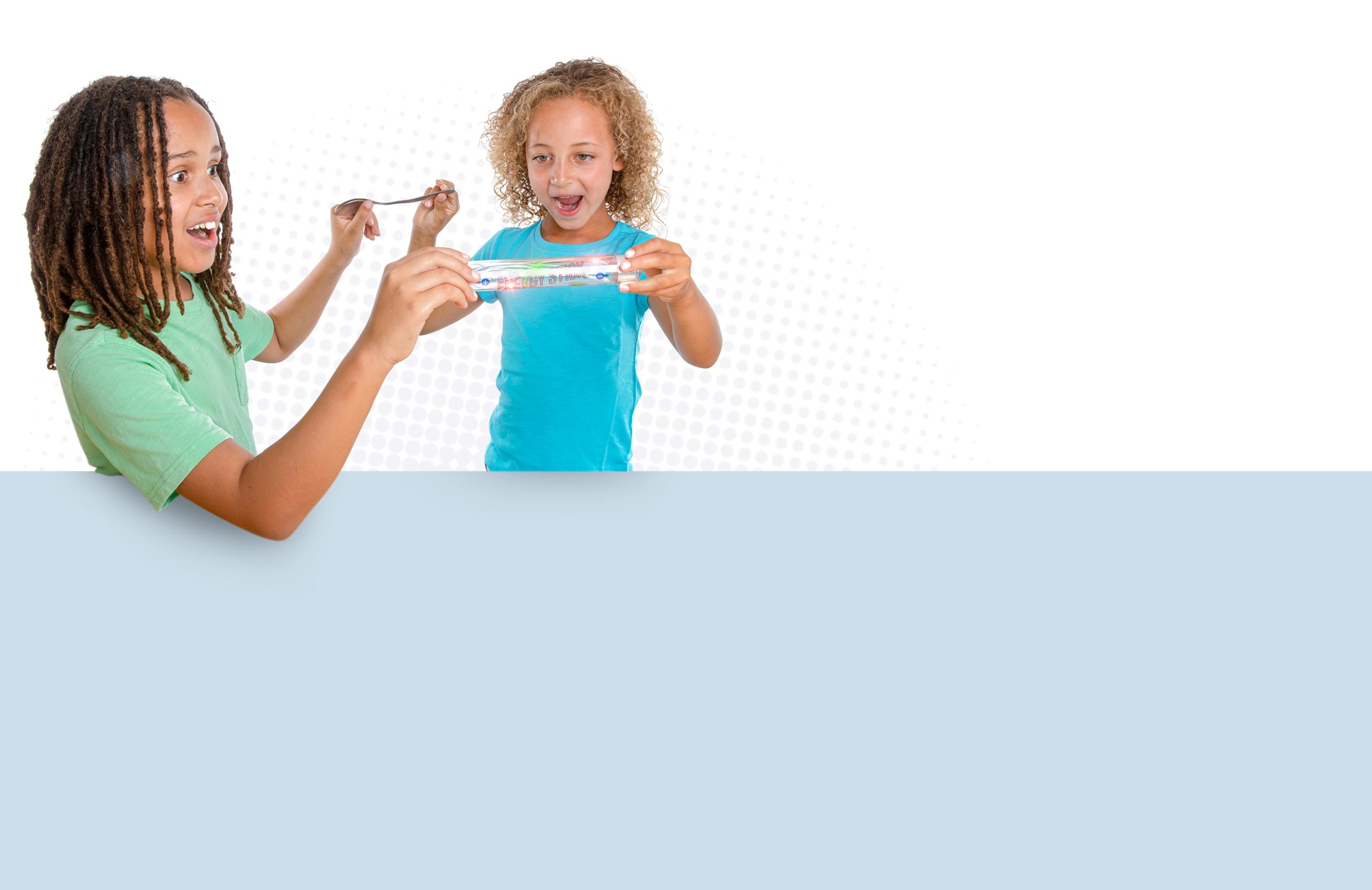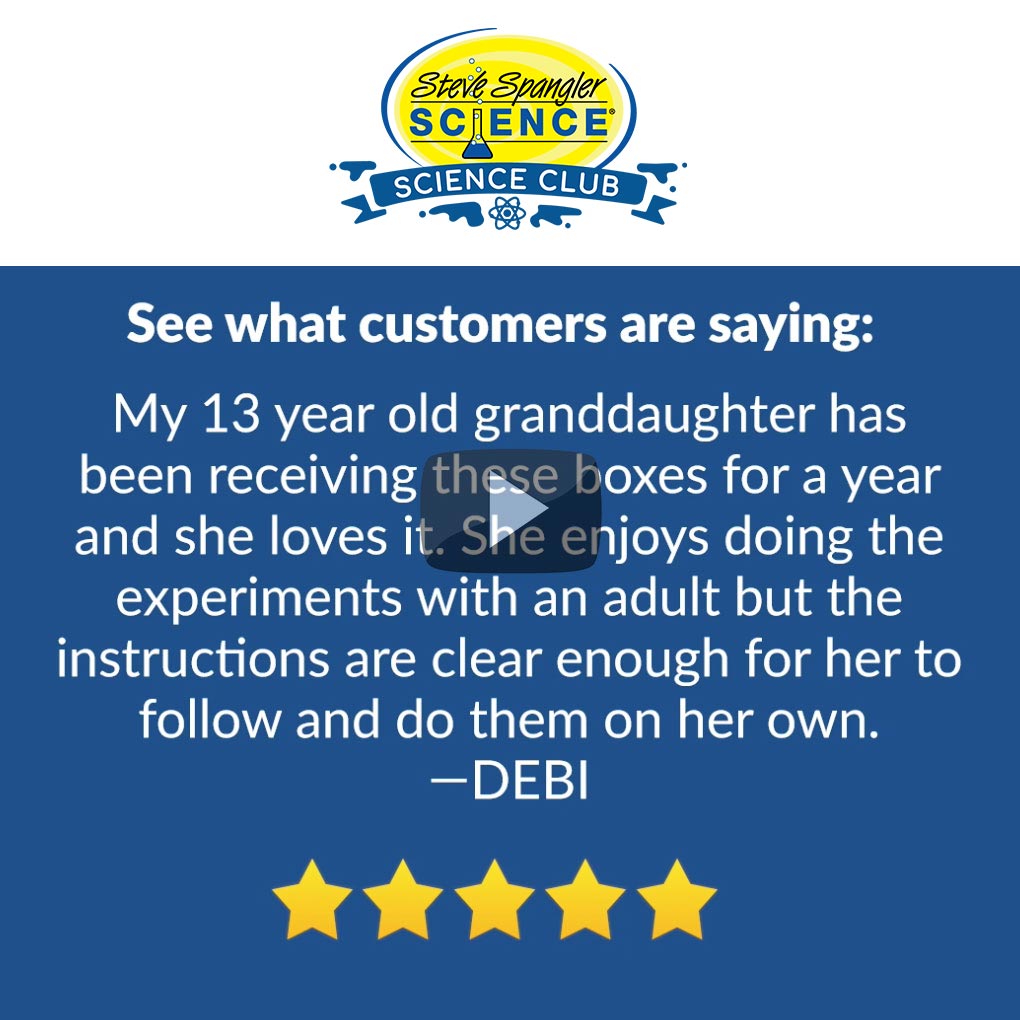 Free Shipping every month!
Recommended ages 5-12
20% Membership Discount at the store
A fun and engaging at-home learning experience
GET STARTED
INSPIRING THE
OF SCIENTISTS & ENGINEERS
NEXT GENERATION
What members have to say…