Insta-Snow Ideas
Expert tips for using Instant Snow!
We locked the Insta-Snow experts in a room and told them they couldn't come out until they shared all of their Insta-Snow ideas and secrets. Here's what they came up with...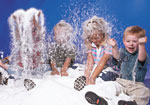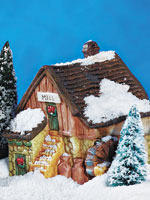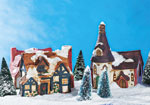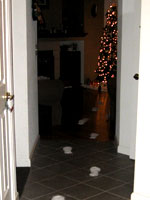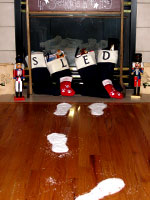 Create a Holiday Atmosphere
Insta-Snow® easily transforms your holiday decorations into a winter wonderland.
Create a real holiday feeling, wherever you live or work!
Give Santa an authentic North Pole home.
Tip the tree with soft sprinkles of Insta-Snow®. It looks real!
Use Insta-Snow® to enhance display windows and hall decorations.
Surprise your warm-weather friends with a yard full of "snow."
When the holiday's over, pack up your Insta-Snow® for use next year!
Throw a Party
Annual holiday gatherings, office parties, and even scorching hot summer days provide excellent opportunities to scatter some Insta- Snow®!
Build a big pile of "snow" for your kids and their friends to play in.
Fill a kiddie pool with Insta-Snow® and stage a playful snow splash!
Invite friends to a pre-season ski party in the middle of summer.
Hand out packets or tubes of Insta-Snow® as a fun party favor.
Take the Picture
For professional photographers, Insta-Snow® provides the most authentic looking "snow" on the planet!
Create realistic snow scenes for catalogs and project shots.
Safe for use with models: adults, children, and animals.
Insta-Snow® provides a practical, inexpensive, winter look for movie set designers.
When you're finished, pack up your snow for use on the next shoot.
Go For a Hobby
Make your special interests real with a little "snow."
Use Insta-Snow® to create realistic miniature scenes for dioramas, doll houses, and train sets.
Give puppets something fun to do in your own show. Make snow!
Create spring flower arrangements and Christmas wreaths. Insta- Snow® retains moisture!
Set up an authentic historical reenactment.
Create a Science Fair or Class Project
In classrooms everywhere, Insta-Snow® provides perfect experiments for the Science Fair season.
Use Insta-Snow® to introduce the Winter Olympics and discuss how snow is often man-made at Olympic and resort venues.
Discuss the use of superabsorbent polymers in oil spill disasters (and in baby diapers)!
Demonstrate how Insta-Snow® absorbs vast quantities of water. Discuss the use of polymers to minimize drought conditions.
Show and discuss how avalanches hinder climbers on treks to the top of the world.
Make More Fun Than You Can Imagine
Insta-Snow® brings good clean fun to every event. From movie blizzards to buckets of white fluff in the heat of summer, the possibilities are endless! All you need is a little creativity and a good reason for snow to fall!
White Christmas in Texas
Jennifer Santa Fe, Texas - December 9, 2009
I buy Insta-snow for my classroom each year. It is fun for my 3 and 4 year olds to make their "magic snow" in the winter. In Texas we rarely have real snow. We make the snow as a group and add it to our "sensory center." The kids LOVE it!! I tried a different brand last year because I they weren't selling Insta Snow at our mall. It was terrible! It was shiny and stuck to their fingers--when they washed it off it clogged our sink drain. Insta snow is great, they can shake it right off their hands. My only complaint would be if the kids play in it day after day, it does start to smell a bit and I have not been able to save it for year after year...I think with older kids it would be possible to save, but not wiht all the handling my kids do. Fantastic Snow!