Halloween Party Glow Ideas
Tips and tricks for your Halloween party
Halloween is all about spooky, creepy things that lurk in the dark. There's nothing better than turning off the lights and bringing out glowing, mysterious, and slimy materials to touch and watch. The kids will ooh and ahh. Whether you are planning a Halloween party, looking for unique decorations, or just wanting to have some fun with your own kids at home, here are some glowing activities you can do.
Materials
Contact paper
Glue or spray adhesive
Scissors
Black construction paper
Tonic water
Mentos
Ice cube trays
Glowing Pumpkins
This activity was featured on Martha Stewart a few years ago. Instead of carving your pumpkins, make them glow. Glow powder is needed for this activity. Glow powder charges in regular light or under black light and then glows in the dark. Use contact paper and cut out face pieces. Stick them to your pumpkin. Spray the pumpkin with stick adhesive (for younger children or a less toxic version, you can also "paint" the pumpkin with Elmer's Glue.) Shake glow powder evenly over the pumpkin to cover it. Let dry. Click here for the full experiment.
Glow Powder
Glow powder can be used for craft projects in place of glitter or crayons. Use your imagination. One of my favorite activities for glow powder is decorating paper designs. I cut out pumpkins, ghosts, etc. on black construction paper. Squeeze Elmer's glue or use a glue stick on the paper in a design to make it sticky. Make faces, patterns, or whatever you want to create, then sprinkle the glow powder over the paper. Shake off the excess back into the container. Let dry. Hold the paper up to a black light or regular light to "charge" the glow powder. Then turn off the lights. My kids do this activity and then run to the windowless bathroom to check out their designs in the dark.

Under normal light, Atomic Glow turns water a cool greenish-yellow color, but under black light it glows an eerie green color that looks "atomic." Unlike glow powder, Atomic Glow needs a black light to glow. Add it to any of your Halloween liquids and watch them glow. Just add it to water in a beaker, turn off the lights, turn on the black light, and watch the glow spiral and spread through the water. Very creepy and cool!
Glowing, Gooey Eyeballs
Imagine reaching into a jar filled with slimy, gooey eyeballs for Halloween. The secret is a special water-absorbing polymer called Jelly Marbles. Just add water and the tiny beads absorb 300 times their weight in water and turn into... well... eyeballs. Add a little of Spangler's Atomic Glow and you have glowing eyeballs. Once you touch them, you won't be able to put them down.
Atomic Slime
Slime is a must at Halloween. Atomic slime is even better. Just mix two materials together and you get an ooey gooey activity. Kids cannot put it down! It oozes. It stretches. It feels kind of like play dough. If that isn't enough, turn out the lights and watch it glow in the black light.
Glowing Geysers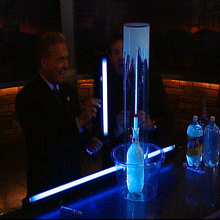 Dropping Mentos into Diet Coke has become a phenomenon on the Internet and in homes and parks across the country. There is something irresistible about creating an explosive reaction and then running for your life.

You can make your geysers glow by using Tonic water. Tonic water contains quinine, a chemical that glows under a black light. Quinine was added to Tonic water to help fight off malaria. Tonic water still contains a small amount of quinine, which makes it a perfect material for glowing geysers. Set the stage, turn off the lights, drop the Mentos and you have a glowing geyser... an amazing finale to your Halloween party!  Click here for the full experiment.
Glowing Ice Cubes
Use your knowledge of glowing tonic water to make spooky ice cubes for your party drinks. Just pour tonic water in your ice cube trays and freeze. When they are completely frozen, add them to your party drinks to create an eerie, glowing beverage!
How does it work?
Who knew you could have so much fun with a black light? A black light is a must for these activities. Black light is really ultraviolet light, which is naturally present as a component in sunlight. Ultraviolet wavelengths are very long with a very high frequency and can be used to detect fluorescent material that would remain invisible under normal conditions. When you shine ultraviolet light on fluorescent material, it lights up with a beautiful bluish-green luminescence.
We don't currently have any customer reviews.